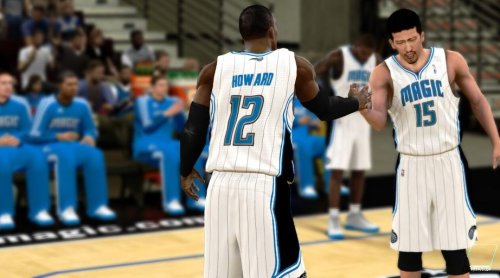 The eight players that were on the move due to the two trades completed over the weekend have been adjusted in the Living Rosters for NBA 2K11. Gilbert Arenas, Hedo Turkoglu, Jason Richardson, and Earl Clark are now on the Orlando Magic. Vince Carter, Mickael Pietrus, and Marcin Gortat are with the Suns, while Rashard Lewis has joined the Washington Wizards. In typical Vince Carter fashion though reports are now that he is considering knee surgery which would sideline him for at least a month.
•For the Magic: Arenas now wears #1 and Turkoglu wears #15. Richardson received a ratings boost of five points and is now 75 overall.
•For the Suns: Carter now wears #25, Pietrus chose #12, and Gortat has taken on #4.
•For the Wizards: No changes to Rashard Lewis, though John Wall has fallen 11 points to 73.
Other changes of note that have been implemented recently include injuries to Joakim Noah and Rajon Rondo. In order to reflect the injuries their ratings have been lowered significantly. Brandon Roy has also taken a big hit falling 11 points to 77.