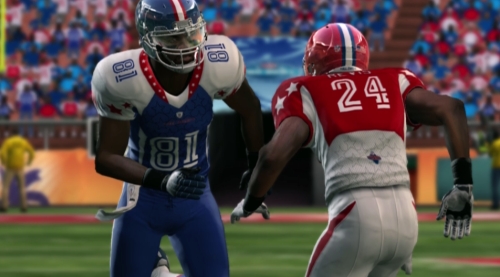 The Pro Bowl is hardly the most accurate way to assess the years that players are having. Some names get in more based on reputation or market exposure than performance in the current season. Still it can present the big picture of the season and in this sense I thought it'd be interesting to look at the current ratings of Pro Bowl selected players in Madden 11 as well as the highest rated players who didn't make it. In doing so there could be some overrated or underrated players exposed.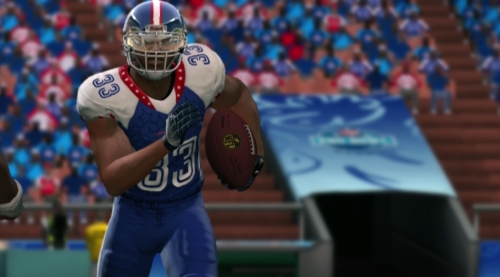 NFC
Quarterback * Michael Vick, Philadelphia (94)
Matt Ryan, Atlanta (90)
Drew Brees, New Orleans (97)
Running back * Michael Turner, Atlanta (93)
Adrian Peterson, Minnesota (98)
Steven Jackson, St. Louis (96)
Fullback * Ovie Mughelli, Atlanta (88)
Wide receiver * Roddy White, Atlanta (97)
* Calvin Johnson, Detroit (93)
DeSean Jackson, Philadelphia (91)
Greg Jennings, Green Bay (92)
Tight end * Jason Witten, Dallas (97)
Tony Gonzalez, Atlanta (95)
Tackle * Jason Peters, Philadelphia (91)
* Jordan Gross, Carolina (93)
Chad Clifton, Green Bay (88)
Guard * Jahri Evans, New Orleans (98)
*Chris Snee, N.Y. Giants (96)
Carl Nicks, New Orleans (93)
Center * Andre Gurode, Dallas (90)
Shaun O'Hara, N.Y. Giants (91)
Defensive end * Julius Peppers, Chicago (98)
* John Abraham, Atlanta (93)
Justin Tuck, N.Y. Giants (94)
Interior linemen * Ndamukong Suh, Detroit (89)
* Jay Ratliff, Dallas (92)
Justin Smith, San Francisco (90)
Outside linebacker * Clay Matthews, Green Bay (94)
* DeMarcus Ware, Dallas (97)
Lance Briggs, Chicago (92)
Inside/middle linebacker * Patrick Willis, San Francisco (98)
Brian Urlacher, Chicago (94)
Cornerback * Asante Samuel, Philadelphia (94)
* Charles Woodson, Green Bay (96)
DeAngelo Hall, Washington (87)
Free safety * Nick Collins, Green Bay (94)
Antrel Rolle, N.Y. Giants (85)
Strong safety * Adrian Wilson, Arizona (94)
Punter Mat McBriar, Dallas (92)
Placekicker David Akers, Philadelphia (89)
Kick returner Devin Hester, Chicago (99KR)
Special teamer Eric Weems, Atlanta (N/A)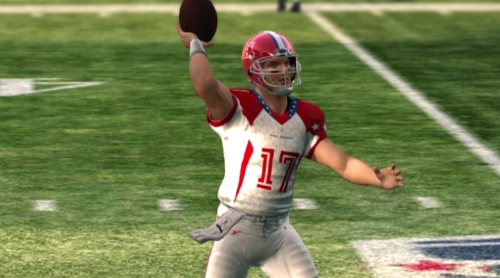 AFC
Quarterback * Tom Brady, New England (99)
Philip Rivers, San Diego (97)
Peyton Manning, Indianapolis (98)
Running back * Maurice Jones-Drew, Jacksonville (96)
Arian Foster, Houston (89)
Jamaal Charles, Kansas City (92)
Fullback * Vonta Leach, Houston (87)
Wide receiver * Andre Johnson, Houston (99)
* Reggie Wayne, Indianapolis (97)
Brandon Lloyd, Denver (87)
Dwayne Bowe, Kansas City (90)
Tight end * Antonio Gates, San Diego (99)
Marcedes Lewis, Jacksonville (91)
Tackle * Jake Long, Miami (98)
* Joe Thomas, Cleveland (95)
D'Brickashaw Ferguson, N.Y. Jets (91)
Guard * Kris Dielman, San Diego (93)
* Logan Mankins, New England (92)
Brian Waters, Kansas City (91)
Center * Nick Mangold, N.Y. Jets (97)
Maurkice Pouncey, Pittsburgh (83)
Defensive end * Dwight Freeney, Indianapolis (95)
* Robert Mathis, Indianapolis (94)
Jason Babin, Tennessee (79)
Interior linemen * Haloti Ngata, Baltimore (98)
* Vince Wilfork, New England (96)
Richard Seymour, Oakland (95)
Outside linebacker * James Harrison, Pittsburgh (98)
* Cameron Wake, Miami (89)
Terrell Suggs, Baltimore (93)
Inside/middle linebacker * Ray Lewis, Baltimore (95)
Jerod Mayo, New England (89)
Cornerback * Nnamdi Asomugha, Oakland (99)
* Darrelle Revis, N.Y. Jets (98)
Devin McCourty, New England (86)
Free safety * Ed Reed, Baltimore (97)
Brandon Meriweather, New England (88)
Strong safety * Troy Polamalu, Pittsburgh (98)
Punter Shane Lechler, Oakland (98)
Placekicker Billy Cundiff, Baltimore (77)
Kick returner Marc Mariani, Tennessee (97KR)
Special teamer Montell Owens, Jacksonville (N/A)
Players rated 90 or higher, generally the Pro Bowl quality zone, that didn't get selected
Jon Beason (98)
Kevin Williams (98)
Champ Bailey (98)
Ryan Clady (97)
Trent Cole (97)
Steve Hutchinson (97)
Chris Johnson (97)
Vernon Davis (97)
Mario Williams (96)
Larry Fitzgerald (96)
Dwight Dallas Clark (96)
Sam Koch (95)
Robbie Gould (95)
Michael Roos (95)
Jared Allen (95)
Nate Kaeding (95)
Shaun Phillips (95)
Aaron Rodgers (94)
Ben Grubs (94)
Antoine Bethea (94)
Brandon Marshall (94)
Frank Gore (94)
Andy Lee (94)
Donnie Jones (94)
Kris Jenkins (94)
Jeff Saturday (94)
LaMarr Woodley (93)
Elvis Dumervil (93)
Rob Bironas (93)
O.J. Atogwe (93)
Mike Scifres (93)
Shaun Rogers (93)
Matt Birk (93)
Jermichael Finley (92)
Brandon Flowers (92)
Ray Rice (92)
David Harris (92)
Leon Hall (92)
Wes Welker (92)
Sedrick Ellis (91)
Zach Miller (91)
Lawrence Timmons (91)
LaRon Landry (91)
Cortland Finnegan (91)
Lawrence Vickers (91)
Tamba Hali (91)
Jonathan Joseph (91)
Lousaka Polite (91)
David Stewart (91)
Jabari Greer (91)
Jonathan Vilma (91)
Rashean Mathis (91)
Anquan Boldin (91)
Bart Scott (91)
Casey Hampton (91)
Steve Smith NYG (91)
Curtis Lofton (90)
Leonard Weaver (90)
Michael Griffin (90)
Stephen Tulloch (90)
Marques Colston (90)
DeMeco Ryans (90)
DeAngelo Williams (90)
Vincent Jackson (90)
Cullen Jenkins (90)
Hakeem Nicks (90)
D.J. Williams (90)
Eli Manning (90)
Brandon Moore (90)
Jon Stinchcomb (90)
Osi Umenyiora (90)
London Fletcher (90)
Brian Dawkins (90)
Tony Richardson (90)
Matt Cassel (87) – Got some talk as a snub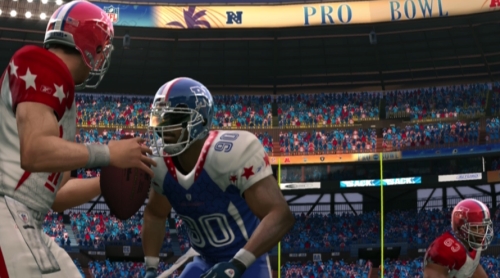 There are reasons why players may be justifiably rated very high even though they didn't make the Pro Bowl. Injuries are one of them, but also the talent around individuals plays a part. Take for example Larry Fitzgerald who had to deal with horrible QBs all season and because of that his ability to make plays was largely out of his control as opportunities vanished.
Jason Babin is the lowest rated position player in the Pro Bowl at just a 79. Other names that stand out being a bit low considering their production this season are Arian Foster, Jamaal Charles, Calvin Johnson, Cameron Wake, and Antrel Rolle. Rookies Devin McCourty and Maurkice Pouncey are lagging somewhat as well. From scanning the list of 90+ that didn't get in, Eli Manning with 24 INTs is the most glaring that shouldn't be up in the group and Steve Hutchinson was identified as one of the most overrated at the start of the year in Madden 11 but remained at 97 all season despite not justifying that placement. Chris Johnson at 97 is rated above all three of the running backs on the AFC roster, and is higher than two of the backs on the NFC including the starter there.
How do you think the ratings shape up as compared to the Pro Bowl selections? Which Pro Bowlers are under or overrated, and which players left out of the Pro Bowl are overrated? Leave your thoughts in the comments!