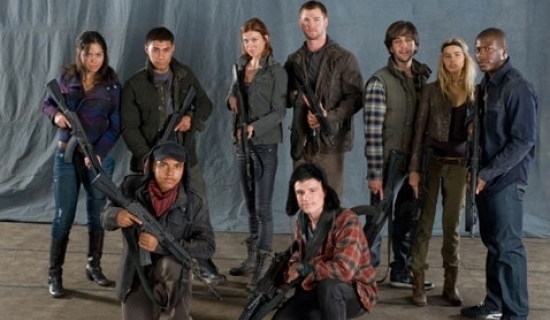 With the MGM bankruptcy having stalled some high profile projects, most notably The Hobbit and James Bond 23, one that has been largely overlooked is the remake of the 1984 film Red Dawn. The movie has already been completed but it has been held up and it still doesn't have a set release date though it seems likely to reach theaters sometime this year.
Now a full promotional shot of the cast has made its way out and includes Chris Hemsworth, Josh Peck, Josh Hutcherson, Isabele Lucas, Adrianne Palicki, Connor Cruise, Edwin Hodge, and Alyssa Diaz. Jeffrey Dean Morgan also plays a prominent role.
Hemsworth and Peck play the roles that were carried in the original by Patrick Swayze and Charlie Sheen while Palicki takes on Jennifer Grey's character. In the remake the group known as the "Wolverines" tries to fend off the invasion of their town by the Chinese which have replaced the Russians as the villains.