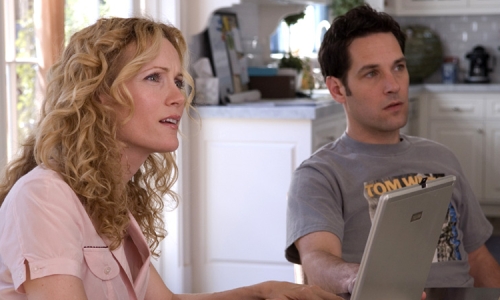 Variety is reporting today that the upcoming untitled film Judd Apatow is working on will be a spin-off of the 2007's hit comedy Knocked Up. The focus will shift to the characters of Paul and Debbie as portrayed by Paul Rudd and Leslie Mann. Apatow is writing the script, producing the project, and directing for the first time since 2009's Funny People.  A release date of June 1st 2012 has already been locked in.
Interestingly though it is being said that the movie could use the characters but have nothing to do with Knocked Up. That would bring about comparisons of Forgetting Sarah Marshall being followed by Get Him to the Greek, where one character carried over but Jonah Hill played a brand new one with little ties otherwise to FSM. Apatow was a producer on both of those films.
As much as I like Paul Rudd, and how funny these two were in Knocked Up, I usually find that secondary characters struggle to carry films on their own. I did not like Get Him to the Greek despite having enjoyed the character of Aldous Snow in FSM. I could see the same happening here, but until the story and their place in it is known it would be premature to judge the potential of the project.