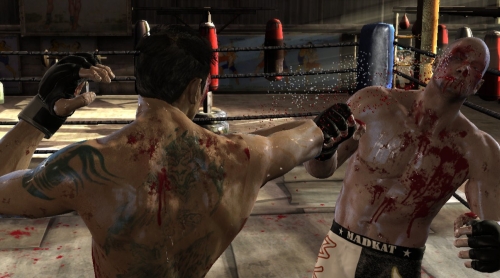 It has been a while since hearing anything about Supremacy MMA, a violent take on the sport from 505 Games and developer Kung Fu Factory which produced the first UFC game that was released on the Dreamcast back in 2000. Details on the game were vague though it was known that it would be intensely graphic including the ability to injure opponents by going as far as breaking their necks.
Today it was announced that former UFC lightweight champion Jens Pulver will lend his likeness and backstory to the game. He is also serving as a gameplay and story consultant. Along with that announcement was the release of a new trailer.
Supremacy MMA brings the brutality of unsanctioned, amateur and unlicensed MMA fighting to the Xbox 360 and PlayStation 3 systems, favoring fast-and-furious gameplay and underground aesthetics over official branding and television-style presentation. The game raises the bar in the MMA space by bringing an unprecedented level of fast, fluid combat, intuitive controls and true-to-the-sport brutality, telling the story of up-and-coming fighters on their quest for supremacy.
Shown in a meeting at last year's E3, Supremacy MMA has some interesting ideas and will differentiate itself from UFC and EA MMA, but those ideas potentially could end up being viewed as offensive and insulting to real fans of the sport. Continue on for a look at the new trailer and leave your thoughts in the comments!