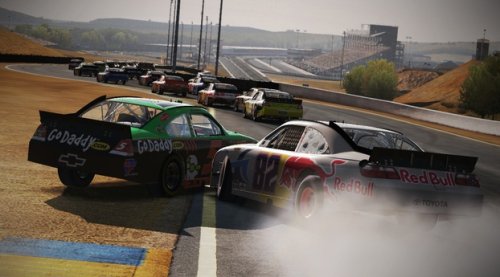 The release of NASCAR 2011: The Game has been pushed back to March 29th from its original date of February 15th. That means the game will not come out in advance of the Daytona 500 which takes place on February 20th.
The other head-scratcher is that Activision has chosen to release the game on a day where three other sports-themed titles hit the market. The 29th also includes the high-profile arrival of Tiger Woods PGA Tour 12: The Masters, the Need for Speed racing game Shift 2: Unleashed, as well as the arcade fighter WWE All-Stars. If it had stayed in February it had a pretty open window with little competition to worry about until March. Instead it will not only be facing those but follows in the weeks after Fight Night Champion, MLB 11: The Show, MLB 2K11, and Top Spin 4. A very difficult month to break-in to say the least.
While NASCAR is attractive to a certain audience it may be that the dedicated fans will purchase the game no matter when it is released, and that casuals or those who have little interest in the sport are unlikely to buy it anyway. Still it perplexes me that with all the weeks that are pretty wide open one would be chosen that contains some competition. It could simply be that Activision felt it important to get the game out in their fiscal quarter and with March 29th being the last opportunity to do so they fit it in there. It may have been best for the viability of the franchise going forward if it had been moved into April however.