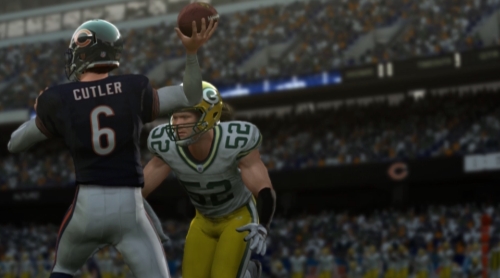 The last two iterations of Madden have featured players from the Super Bowl on the cover and even going back further the player chosen has often come from those respective teams. Though it certainly is not a requirement to get to the big game doing so can provide a big edge over others being considered. The exposure to the players and marketing value increases significantly with each playoff game culminating in the Super Bowl which is watched by over 100 million people.
Both the Packers and Steelers have had cover representatives recently which would seem to hurt their chances on the surface. Brett Favre, though retired and eventually returning only with the Jets, appeared on the cover of Madden 09 in a Packers jersey. Troy Polamalu split the cover of Madden 10 with Larry Fitzgerald.
The two franchises have strong fan bases however and going into Madden 12 the clear favorites come from Green Bay. Though a full analysis on possibilities will come in the weeks ahead (a lot has changed since the mid-season report) it sure looks like Aaron Rodgers and Clay Matthews will be at the very top of the list. Given the already discussed focus on defense and having only had only one year with a single player from that side of the ball featured on the cover (Ray Lewis for Madden 2005) I'd be putting my money on Matthews at this point.