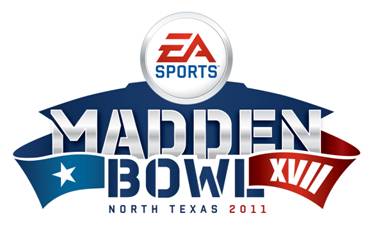 EA Sports has announced that this year's Madden Bowl will be broadcast live on ESPN3. The event is set to take place on February 3rd at 9ET/6PT. For the first time it will not be an individual competition and instead will feature the Online Team Play mode in Madden 11 with four teams comprised of three NFL players.
•New Orleans Saints: Represented by Madden NFL 11 cover athlete Drew Brees, running back Reggie Bush and quarterback Chase Daniel
•Jacksonville Jaguars: Led by reigning Madden Bowl champion Maurice Jones-Drew, linebacker Kirk Morrison and tight end Marcedes Lewis
•Dallas Cowboys: The hometown team will consist of wide receiver Miles Austin, tight end Jason Witten and linebacker DeMarcus Ware
•All-Madden Team: Consisting of last year's runner-up, 49ers linebacker Patrick Willis, and former Madden Bowl champions, Colts defensive end Dwight Freeney, and Ravens running back Willis McGahee
The broadcast will also include red carpet interviews, musical performances from Big Boi and Cee Lo Green, Biz Markie as event DJ, and a Madden franchise retrospective. ESPN3 availability is dependent on high-speed internet service provider. The channel can be streamed online or through the Xbox 360.