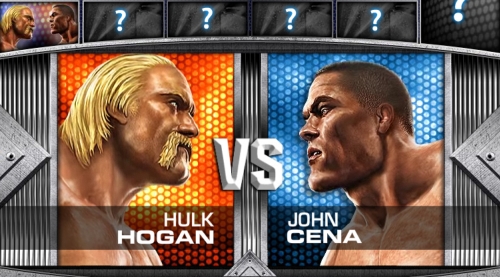 THQ has planned to bring some of their franchises to Facebook and within the last few days rolled out two of them. One is the standard free-to-play microtransaction supported model that has become so popular while the other offers a chance to get more involved in the upcoming release of the console game.
UFC Undisputed Fight Nation takes on the typical Facebook game model. The goal is to create a fighter, build up skills and gain moves, keep fully trained, and have simulated fights against others including licensed fighters. Spending money will result in much faster progress but the game can be played without spending out of pocket. The Facebook offering joins family of UFC Undisputed products currently on the console and mobile platforms.
WWE All-Stars: Fantasy Warfare is more of a marketing app than it is a game but features some cool elements for anyone looking forward to retail release of WWE All-Stars. Legendary match-ups are presented with the first one (Hulk Hogan vs John Cena) all that's available now until enough people complete it to move to the next. After picking a winner the match plays out using footage pulled straight out of WWE All-Stars. There is a slight interactive nature to it with a few opportunities to select moves and influence the outcome. "Loot" is earned which appears to be unlockables such as wallpapers, screenshots, ringtones, and discounts at the WWE store.