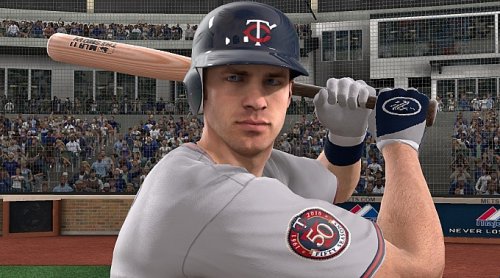 SCEA has released the full fact sheet for MLB 11: The Show. As usual the list of features is extensive as the document includes not just what has been added to the MLB 11 but also those that have been previously established in the series. Continue on to check out all the details and leave your thoughts in the comments!
NEW FEATURES:
Pure Analog Control System (PS3) – The long awaited Pure Analog Controls for The Show have arrived, including analog controls for hitting, pitching, and throwing.  Pure Hitting allows you to stride and swing using the R-stick adding a new dynamic to timing.  Pure Pitching functionality is similar to the Pitch Meter when setting strength and location, but uses the R-stick requiring a bit more concentration when timing your release point.  Pure Throwing uses the R-stick to make throws when on defense.  When fielding the ball, simply point the stick in the direction of the base you'd like to throw towards.  You can also control how hard you throw the ball by how long you hold the R-stick in the desired direction—the longer you hold it in that direction, the harder the ball will be thrown.  This also allows for fake throws to keep runners honest.
Co-Op Mode (Online & Offline) (PS3) – Play co-op 1 vs. 2, 2 vs. 2, or 2 vs. CPU, offline or online!  In two-player Co-op mode, players are given different selectable duty sharing options.  Once the user is at the selection screen, they will be able to choose up to four-player involvement with a maximum of two per team. Online Co-op mode allows a maximum of two consoles and up to four players (two per team) to play a head-to-head online game.  The PlayStation®Network (PSN) account used for online game stats and record is the user logged into the XMB and PSN on each console.  Users can also play an unranked co-op game with two players on two different consoles or on the same team versus the CPU.
3D Experience (PS3) – MLB 11 The Show features the most advanced stereoscopic 3D technology, available in all gameplay modes.
PlayStation®Move Support (PS3) – Swing for the fences with your PlayStation Move motion controller in MLB 11 The Show, available in Home Run Derby® only.
Challenge of the Week (PS3) – Challenge of the Week is a quick, fast paced, 2-3 minute, one-player, online experience, with leader boards and prizes awarded in three tiers.  There will be one challenge a week and multiple monthly challenges, summing up the points awarded in the four weekly challenges and two semi-annual grand prizes.  Each PSN user will get one free try a week, with each subsequent try having a small fee associated with it—think arcade machine.  Prizes include authentic MLB gear signed by MLB players, like Joe Mauer, as well as ticket packages and Sony electronics.
Road to The Show 5.0 (PS3) – The fifth generation of Road to The Show brings a new interactive slider set to the Create Player process, new training modes triggered by the Player Performance Evaluator, Minor League substitution logic improvements, advancement system improvements that now compare your stats versus your competition in the organization, and the new No Assist Fielding option to make the fielding experience even more realistic.  With No Assist Fielding, if you don't react, the game won't do it for you!  A new set of base running controls have been added, along with improvements to the existing base running system.  Road to The Show also boasts improved camera angles and a full audio upgrade.
Eric Karros Joins The Broadcast Booth (PS3) – MLB 11 The Show welcomes the 1992 National League Rookie of the Year and former Los Angeles Dodger first baseman, Eric Karros, to the three-man broadcast booth joining veterans Matt Vasgersian and Dave Campbell. Karros currently works as an MLB color commentator on the FOX network, as well as KCAL-TV in Los Angeles, where he is part of the pre-game show for Dodger games.
Camera Editor (PS3) – MLB 11 The Show is pleased to introduce the Camera Editor, a brand new feature giving players the ability to customize any pitching or batting camera to your own personal specifications.  You can not only view the action your own way by customizing the camera's angle and zoom, but you can modify each pitch meter's placement and size as well!  Use over 35 presets, including all 30 MLB home broadcast views as your starting points for creating your perfect cameras.
Stadium Specific Broadcast Cameras (PS3) – Want to pitch or hit from the same camera perspective you're used to seeing while watching your favorite team play on TV?  MLB 11 The Show now offers the ability to do just that. All 30 MLB teams have their home broadcast view available for batting and pitching. Use broadcast cameras specific to each stadium you play in or build a custom camera similar to your favorite team's broadcast camera and take it on the road—it's all up to you!
Weather Elements and Stadium Ambiance (PS3) – MLB 11 The Show continues to bring the most true-to-life experience now including weather elements in the form of rain and dynamic cloud coverage.  The rain element takes into account stadium location and can affect the on-field action and play results. Additionally, different cloud variations are included—grey, partly cloudy, or complete cloud coverage, as well as the dusk to darkness aspect of the sky. There is also new night cloud coverage and majestic sunsets. Complementing stadium ambiance are newly designed fireworks, playing after the home team hits a Home Run or wins the game.
Stadium Specific Jumbotrons – Completely redesigned, stadium specific jumbotrons are now available in MLB 11 The Show. They reflect the actual look and feel of all real-life ballpark jumbotron displays.  Each stadium's jumbotron board and out of town scoreboard is displayed exactly as seen in each MLB stadium.
Player Performance Evaluator (PS3) – The Player Performance Evaluator is an enhanced mechanism for providing point bonus opportunities for Road to The Show players, similar to the previously used in-game dynamic goals, but with an emphasis on making each at bat, or batter faced, a critical point earning opportunity.  A player's hitting and/or pitching performance is evaluated on an at-bat by at-bat basis to determine the amount of training points awarded.
User Settings (with ADVA) (PS3) – The new User Settings system has been created for MLB 11 The Show to provide a streamlined options interface that houses all game options. The system consists of four preset configurations geared towards various user experiences with the ability to create custom configurations from any of the presets.  The presets are Beginner, Experienced, Expert, and A.D.V.A.  The Association for Disabled Virtual Athletes (ADVA) is the first video game based online competitive sports organization designed specifically for handicapped individuals, making it possible for them to participate in the sports they love, within an environment that fits their needs.  MLB 11 The Show offers a default settings option that makes the game more playable and accessible to those with disabilities.  The default settings were selected based on consultation by the organization.  There is also a new Online User Setting that allows you to set your gameplay style, separate from your opponent.  Settings include, pitching interface, hitting interface, cameras, and more.
Online League Upgrade (PS3) – Building on the foundation of the current online system, MLB 11 The Show offers improved create league functionality with flexible divisions, a new schedule creator, and the ability to use a custom roster for your league.  Commissioners can also set Artificial Intelligence (A.I.) controlled teams allowing for more flexibility and have an opportunity to reset or simulate games.  There is also a new commissioner role management screen allowing users to provide responsibilities to other members of your league, like resolving games, resetting games, simulating games, and more.
The Show XP System (PS3) – The new online scoring system unifies your online gaming experience by making all ways to play games (league and exhibition) count towards your MLB status.  Users will now gain XP status regardless of whether they win or lose.  A win renders more points to the winner, but the user on the losing end will still receive 25% of the points that the game is worth.  Time invested will also play a factor.  No longer will you receive full points for only completing a two inning game.
Player Vault – Now users can upload a single player, outside of a full roster, for others in the The Show community to download, use, and rate.
Tutorial Movies (PS3) – The tutorial movies showcase and explain the new controls for five of The Show's latest features—Pure Hitting, Pure Pitching, Pure Throwing, the Camera Editor, and the Fake Throw System.  They can be viewed in the frontend menus or the in-game pause menu.
In-Game Bottom Ticker – Keep tabs on all the action during your Major League season with the addition of The Show's new in-game bottom ticker.  You'll now get score updates of games in progress, pitching matchups for games yet to start that day, and final score results highlighting win/loss/save info and notable offensive performances—all recreated just as you would see at the bottom of your screen in real-life.  Additionally, you'll be able to set the ticker to display Friend Updates, so you can keep up with what your friends are up to in The Show.
New Presentations – The Show continues to add to an already expansive presentation base by adding more ways to accurately mirror real-life broadcasts.  This year, watch for new pitch-by-pitch sequences that look back at, say, all seven pitches in an at-bat that led to a walk, or a montage of a pitcher's last six strikeouts.
Retooled Fielder Ratings – Improved fielder ratings make defensive substitutions play an even larger role within gameplay.  Leave your designated hitter (DH) in the outfield and risk having his shaky glove in the outfield!  This year you'll see an even larger separation in performance by Gold Glovers versus those players less known for their fielding prowess.
CORE FRANCHISE FEATURES:
MLB® All-Star Break (includes Home Run Derby® and MLB® All-Star Futures Game™) (PS3) –Fully implemented in our season modes and available as a stand-alone mode, Home Run Derby follows the MLB rules and flow.  The MLB® All-Star Futures Game™ will also be available within season modes in its correct timeframe (just before the Home Run Derby).  See if your Road to The Show player is invited to either the Home Run Derby or the Futures Game!
Catcher Calling the Game (PS3) – The catcher will give a sequence of signs and users will have the ability to change their indicator. Specifically for Road to The Show, the feature will allow a catcher to calling the game.  This feature will give a new level of control to the catcher where he will have responsibility to select pitches and position himself to block balls that are in the dirt or wild.
User Controlled Pick-Offs (PS3) – Want to surprise a base runner with a quick move or lull him to sleep?  The pick-off mechanism allows users to choose from a quick, casual, or deceptive pick-off type.  In exhibition, season, and Road to The Show modes, you have the ability to decide which move you want to make as a pitcher.  As a base runner in Road to The Show you now have to pick up on the pitcher's move or get thrown out leaning!
Sounds of The Show – Customize your game experience by adding your own music and sounds to the game.  With the Music Editor, you can edit Music and apply it to areas such as Home Runs, between inning music, and much more.  Also available is the User Recorder that allows you to record your own audio and apply it to areas like team cheers/jeers, and team chants/yells.  Whether it's team or player specific, the sounds of The Show allows you to make your MLB 11 The Show audio experience the way you want it.
Movie Maker (PS3) – The movie maker gives the user the ability to select up to ten replays to add to a single movie and do all their editing from this menu.  The user can record their movie on a created timeline and then pause their movie, choosing different camera angles of their plays.
Classic Stadiums (PS3) – In addition to all current MLB stadiums, five Minor League™ venues are available, as well as classics parks, including Forbes Field, Crosley Field, Polo Grounds, Shibe Park, Sportsman Park, and Griffith Stadium.
Online League Play – Create leagues with up to 30 teams with full stat tracking, point benefits and rewards.  Gamers can customize leagues including choosing players, teams, length of schedule, and much more. (Note: There are no cross platform leagues available)
MLB.com Headline News – Stay on top of news around the league and receive all current happenings in sports today.  Information is updated a few times each hour with news, trades, and events from 31 different feeds, each containing 25 unique items. Select general MLB headlines for updates from the entire league so news is not missed while online with MLB 11 The Show.
Key Modes – Rivalry, Road to The Show, Season, Home Run Derby, and All-Star Game are once again available to provide players a chance to challenge friends or the A.I. in a variety of settings.
Mascots – Every team mascot is available, performing signature moves during each game to pump up the crowd and rally the team.
Pitch Grips – MLB 11 The Show details various pitch grips and arm angles that a pitcher has when throwing each pitch.  17 different pitch types including four fastball variations (four-seam, two-seam, cutter, split), six breaking pitches (10-4 curve, 12-6 curve, slider, sinker, slurve, screwball), four change-ups (straight, circle change, palmball, forkball), and three specialty pitches (knuckle, knuckle-curve, and gyro).
Roster Vault – The Roster Vault gives users the ability to create their perfect roster offline by adjusting player attributes, appearance, accessories, etc.  Users can then save this roster to their memory card or PS3 hard drive and then upload online to share with others allowing The Show community to share and judge any roster.
Slider Vault – Gives users the ability to create their perfect game settings offline by adjusting game sliders.  Gamers can then save these adjustments to memory and, when online, upload to for other users to try and let the online community be the judge on finding the perfect game.
Unrivaled Player Creator – An infinite amount of options for creating players including everything right down to your own face with EyeToy® (PS2 only).  But it doesn't stop there.  You can also adjust your personal rituals, swings—even emotions as you create mini-you.
MLB® Player Motion Captures – Authentically captured motions from dozens of professional athletes including Joe Mauer, Dustin Pedroia, David Wright, Ryan Howard, and more.  This is on top of the hundreds of accurate personalized pitching deliveries and batting stances.
Umpire Personalities – Each umpire will have his own definition of the strike zone, and it's up to the gamer to figure out if the umpire is calling the zone high, low, or giving the corners.