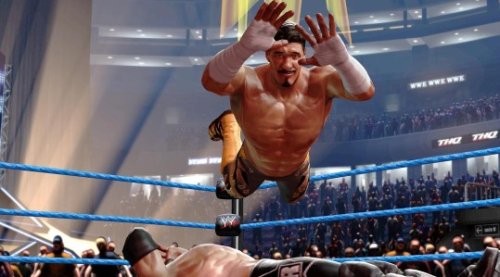 THQ has revealed another set of wrestlers for the upcoming arcade fighter WWE All-Stars. The list includes the late Eddie Guerrero, Sgt. Slaughter, Jake "The Snake" Roberts, and "Rowdy" Roddy Piper for the Legends. Edge, Jack Swagger, and Kane join the side of those currently active in the WWE.
The base roster consists of 15 legends and 15 current superstars. That leaves four of each left to announce with those names coming next week.
Apparently though THQ also has plans to offer additional wrestlers through DLC which would seem a cheap tactic in holding them back for that purpose alone. It is one thing when it is a time issue and a value added proposition down the line but that doesn't appear to be the case here. Those available only through DLC will be "The Million Dollar Man" Ted DiBiase, Ted DiBiase Jr. (those two can be had for free w/Gamestop preorder), Dusty Rhodes, Cody Rhodes, and "The Road Warriors" Hawk and Animal. There are more still to announce for DLC as well.
The announced roster so far:
Legends: The Rock, Hulk Hogan, Ultimate Warrior, Macho Man, Bret Hart, Andre the Giant, Ricky "The Dragon" Steamboat, Eddie Guerrero, Jake "The Snake" Roberts, Sgt. Slaughter, Roddy Piper, The Million Dollar Man (DLC), Dusty Rhodes (DLC), Hawk and Animal (DLC)
Active: Triple H, John Cena, Rey Mysterio, Sheamus, The Big Show, Randy Orton, Kofi Kingston, Edge, Jack Swagger, Kane, John Morrison, Cody Rhodes (DLC), Ted DiBiase Jr. (DLC)