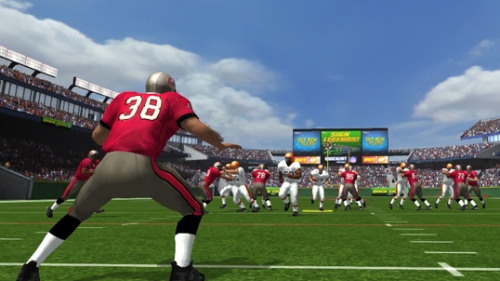 It has been a while since last checking in on QUICKHIT NFL Football. The browser-based game, which won the community award for the best in that category, has been making consistent and worthwhile improvements.
For anyone not familiar with QUICKHIT the game works in a similar fashion to other free-to-play but microtransaction supported offerings. "Quick Cash" and "Coaching Points" can be bought to be used on upgrades and increased rates of advancement as the heart of the game is still in team building. QUICKHIT does however offer more depth than is typical out of a browser game. That is due to the ability to take on the role of the coach by making all the play calls and being able to go head-to-head against other user-controlled teams. Presentation wise it can be played in the original top-down 2D mode or the upgraded 3D version.
The five current NFL players remain DeMarcus Ware, Chris Johnson, Donovan McNabb, Albert Haynesworth, and Randy Moss. It is pretty remarkable just how far a few of those guys have fallen since being signed last year. They are expected to be replaced with new players in the lead-up to the (possible) NFL season. Those active players are joined by a large number of legends and several coaches. QUICKHIT of course also includes the NFL license which encompasses team names, logos, uniforms, and league branding.
One of the big additions as of late has been with a brand new team "HUB". Customized stadiums and fans have been brought into the equation while also providing easier access to coaching and account options.
Of greater significance QUICKHIT recently became playable on Facebook. This may not seem like a big deal for those already active but it increases the game's exposure greatly and also centralizes it in one area for those who play different games through the social website. The game is essentially identical whether played on Facebook or independently through the browser. Access the app on Facebook by clicking here or do so through the official website.