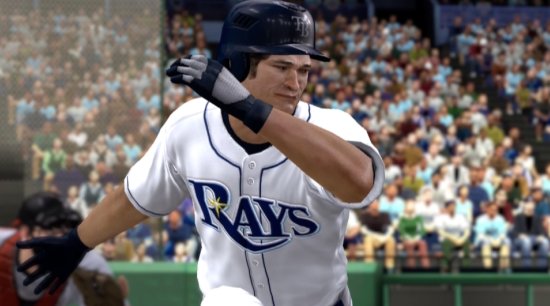 MLB 2K is a series on its last legs. The third party exclusive MLB license has just a year left and 2K Sports can't wait to get out of it having publicly regretted the decision to enter the agreement which loses them tens of millions each year. With MLB 2K11 it has become readily apparent that some combination of the necessary resources not being provided and the effort and care not being present are resulting in a product that fails to reach today's standards.
MLB 2K11 has some really great elements and an impressive underlying fun factor but its flaws are so undeniable that they overshadow anything it does well. Continue on for a look at where MLB 2K11 succeeded as well as where it critically stumbled in this "Hits and Misses" review.
Hits
Presentation and Commentary
If there is one area that 2K Sports has excelled in its with the broadcast style presentation and fantastic commentary. The MLB Today feature adds even more to those aspects of the game with dynamic and relevant commentary and updated stats from around the league. MLB Today even generates the Spring Training games, but becomes much more valuable once the season starts. The quality of presentation overall is unmatched.
When it comes to gameplay one area stands out from the rest and that is the hitting. The system works well (outside of check swings) and the hit variety is excellent. The new post-hit camera angle represents a satisfying perspective and an important change that could influence all baseball games going forward. The variable strike zones make hitting much more interesting and there is a satisfying feeling when contact is made.
The solid performance is enough to make MLB 2K11 the best playing baseball game online. Games are smooth and responsive though that may be due to hardly anyone being on to play it. 2K goes out of their way to hide the online area of the game, with the lobby rooms usually empty or just populated by a handful of people. Presentation being stripped out of online games is off-putting due to the lack of information, as often it is unclear who is at bat or pitching and how they have performed. A wide array of highlights are available following completion of the games which is nice to have. There are no real new features online and it is too early to be able to evaluate the leagues which have always seemed to be broken in some form or fashion over the years. To be clear the entirety of online is not great, but 2K11 gets credit for the games running relatively well.
Misses
In the initial impressions I expressed being startled by just how bad the CPU AI in 2K11 was showing itself to be. One of the first games completed had the CPU using Jonathan Broxton for six innings and he probably would have gone longer if not for a walk-off home run. Starters are pulled early if they give up a couple runs, closers early before they even blow saves, and middle relievers are sometimes left out to finish games rather than bringing in the closer. The CPU doesn't seem to have a grasp of situations, whether that be with pinch hitting, double switches, base running, or the aforementioned handling of pitchers. These issues are simply inexcusable.
While not reaching MLB 2K9 levels of ineptitude, MLB 2K11 has a number of issues that adversely affect the game. The HR wall glitch is one spotted first in the demo and remains. However another big one is fatigue in franchise mode being broken when playing the games rather than simming. Injuries result in replaced players being left on the field or sitting at the plate and runners vanishing off the base paths. There are also simple baseball related things like position players who pinch hit taking the mound before being replaced, fly balls often resulting in circus catches, and "Player of the Game" going to those who don't deserve the recognition.
It is completely unsettling how ugly MLB 2K11 is, with flat environments and many awful player faces. Understandably some of the big name players are represented much better but that doesn't make up for missing so badly on the rest. Shadows are pixelated and distracting and even graphical glitches are present when zooming in on players from time to time. Worse is that the framerate takes a hit in certain gameplay situations, and with the state of the graphics there is no excuse for that to happen.
Its disconcerting that the main area the game was said to have improved on lands in the "Misses" section. While enhancements have been made to the fielding in part due to the allocation of animations a number of fundamental issues remain. Occasionally infielders just stop in their pursuit of a grounder and in general players are just lackadaisical in their efforts, the "landing circles" make it hard to judge where the ball is coming until the last second, and particular random throw animations can change the outcome of plays. There have been several instances where the ball has inexplicably warped into the gloves of fielders as well.
MLB 2K11 is a game that even the company demonstrated they had no confidence in which is always telling. Considering the way 2K Sports mailed it in for MLB 2K11 what will that mean for MLB 2K12, almost certain to be the last entry in the series? With no real incentive to improve the product its scary to imagine what the state of that game could be come release next year.