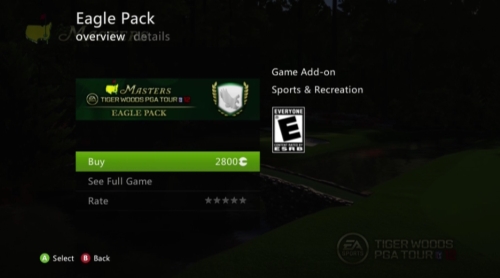 A significant number of courses for Tiger Woods PGA Tour 12: The Masters have long been planned for downloadable content and now with the game out all the details are at hand. Those looking to have a complete package will be making a big investment, though the price per course is actually significantly lower than last year.
The "Eagle Pack" includes 13 courses and goes for 2800 MS points/$35. The "Birdie Pack" includes the set of five courses that were part of the "Collector's Edition" on the PS3 and is priced at 1200 MS points/$15. If not buying the packs courses can be purchased on an individual basis for 320 MS points/$4 each.
One of the big additions to Tiger 12 involves the insertion of DLC courses in career mode. Unfortunately this also means those out there who don't obtain the courses have the events essentially "skipped" along the way and that could even affect the rankings. 18 additional courses is a lot of content but still it is tough to look at $110 for the complete package as being justifiable.