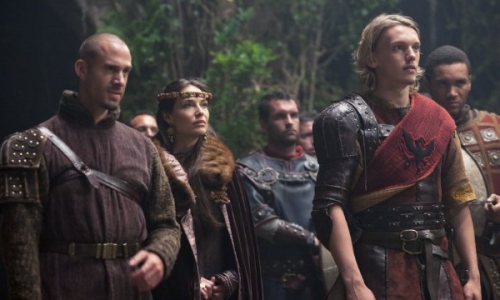 It seems lately with every launch of a new series on cable a ratings record of some sort is being broken. In the case of Starz it delivered Camelot to the highest ratings of an original series premiere for the network besting Spartacus. Over on AMC as the second biggest premiere for the highly regarded network it was The Killing which launched successfully and is being counted on to hold audiences over until Breaking Bad returns in the summer.
Camelot is yet another retelling of the King Arthur and Merlin tale packing some good actors but hit with some mediocre reviews. It pulled in 1.125 million viewers for its first showing and nearly 1.6 million while counting the encore. Those numbers of course won't include DVR or On-Demand viewings, and Starz recently pulled out of offering their content on Netflix immediately which could push initial ratings higher. Instead now Starz content arrives on Netflix for instant streaming 60 days after first airing.
Critically the crime thriller The Killing was already a hit heading into its premiere but the ratings delivered as well. The two hour premiere drew 2.7 million viewers and 4.7 million total when counting the night's two encores. Only last fall's The Walking Dead scored higher ratings upon arrival so AMC continues its momentum establishing itself with audiences as a go-to network for quality content.