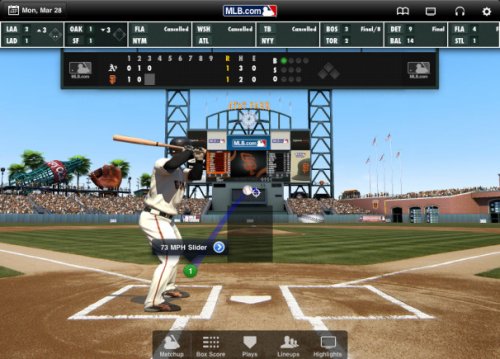 The ultra-popular MLB.com At Bat mobile app has received a number of upgrades for this year and even takes advantage of video game resources. MLB.com At Bat 11 now features graphics for each individual ballpark rather than one generic ballpark and the players wear official home and road uniforms. Those assets come directly from MLB 11: The Show. There is also a planned update to insert individual player's batting stances to come later this year.
The MLB.com At Bat app was the top grossing app last year on iTunes. It is available for the iPhone, iPod Touch, iPad, Android, and Blackberry at a cost of $14.99. The app provides news, standings, stats, and instant updates on games even down to pitch-by-pitch progress and animations that show pitch type, location, release and breakpoints. Audio broadcasts of every game are available and one free game a day can be streamed with live video (extra charge involved to stream more than that). The only downside is that streaming is subject to local blackouts but there are "Live Look-ins" and highlights which have no blackout restrictions.
All those features are only breaking the surface of what the app offers as it is a dream come true for hardcore baseball fans. Check out more about MLB.com At Bat 11 by visiting iTunes for the iPhone/iPod touch and iPad, Android Market, or Blackberry App World. Some features apply to specific platforms so make sure to read through the details completely. *Currently only the iPad version and MLB.com Gameday use The Show's screenshots.