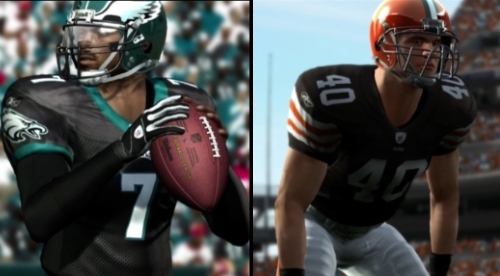 The two players who first promoted the Madden NFL 12 cover tournament on ESPN have made it through the field of 32 to face each other in the finals. It will be the "Dawg Pound" vs the "Dog Killer" as the Cleveland Browns running back Peyton Hillis goes up against Philadelphia Eagles quarterback Michael Vick for the honor of becoming the Madden 12 cover athlete.
Michael Vick, by far the most divisive personality included in the tournament and possibly in the entire NFL, has cruised through his path to the finals easily defeating DeMarcus Ware, Andre Johnson, Patrick Willis, and in the semifinals Adrian Peterson. The controversy regarding Vick's inclusion has yet to lead to a concerted effort to band together and knock him out.
Peyton Hillis is the surprise of the tournament pulling off what many would consider upsets every step of the way. He has knocked off Ray Rice, Maurice Jones-Drew, Matt Ryan, and Aaron Rodgers who many presumed would be the eventual winner and at the very least had an easy path to the finals. Hillis has been supported by the most organized campaign through social media channels and the Browns official website.
Cast your votes for the winner here. The voting will continue through the morning of Wednesday April 27th with the winner being revealed later that day.