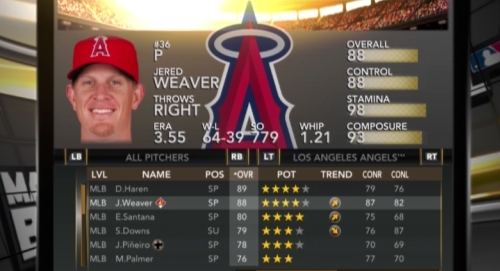 MLB 2K11 has faced heavy criticism for being riddled with serious bugs and AI issues and after seven weeks a patch hasn't even been delivered in an attempt to address them. Given that we are now just about a full month into the regular season it made sense to check out the "Dynamic Player Ratings" feature that was heralded as the only significant addition to the game this year. Not surprisingly the feature fails to operate as advertised. 
According to 2K11 there are currently four "Hot" players and three "Cold" players in the majors. Yes…that's apparently it. 2K11 believes everyone else is performing right at the expectations represented by their standard ratings.
On "Hot" Streaks
Jered Weaver (LAA) 6-0, .99 ERA
Randy Wolf (MIL) 3-2, 2.64 ERA
JJ Putz (ARI) 5 saves, 1.13 ERA
Josh Beckett (BOS) 2-1, 1.45 ERA
On "Cold" Streaks
Brett Myers (HOU) 1-0, 3.31 ERA
Jason Berken (BAL) 0-1, 5.06 ERA
Daniel Bard (BOS) 0-2, 4.35 ERA
Jered Weaver is understandable but the rest of the names are not performing extraordinarily outside reasonable expectations. Those on the "Cold" list seem especially arbitrary. There are certainly a ton of players that could be considered "Hot" or "Cold" if these parameters were being applied evenly. The feature was advertised in a way that made it clear (as seen in several screenshots posted in the developer blog) that there would generally be several players on every team experiencing streaks at any given time.
One issue could be with the reporting of stats. Many players display zero stats for the year while others are way off. Putz, Beckett, Berken, and Bard have no stats in the system. Wondering why Randy Wolf is on a "Hot" streak? It might have to do with his 8-1 record with .11 ERA on 256 innings pitched after appearing just twice.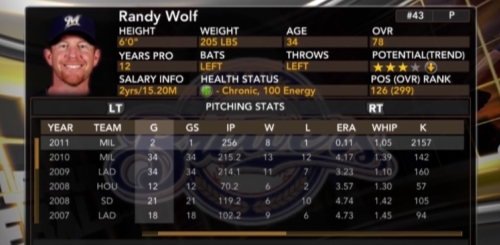 In addition to very few players being influenced by streaks there is the question of whether the icon by their name ultimately even means anything. The way they were intended to shown was to have numbers in green or red next to the default ratings to show what the streaks have provided. None of the players experiencing streaks had a single ratings change displayed in any ratings category.
The Dynamic Ratings feature also applies to Franchise and My Player modes where it can probably be assumed to be broken as well. Nevertheless 2K Sports has botched their main feature for the year and unfortunately the apathy towards MLB 2K11 has meant that either no one cares or no one noticed.