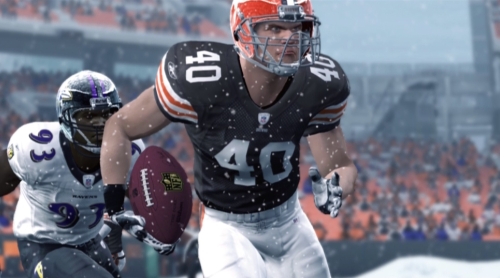 Cleveland Browns running back Peyton Hillis has defeated Philadelphia Eagles quarterback Michael Vick to earn the honor of Madden NFL 12 cover athlete. In its effort to raise awareness of the game the tournament was a huge success for EA Sports and the unlikely victor makes it an even better story. 
Hillis rushed for 1177 yards and 11 TDs and added 61 receptions in 2010. He emerged as a top player in fantasy football which clearly helped his recognition level along with being prominently featured in highlights due his exciting running style.
Hillis ousted big name players every step of the way in the Madden 12 cover tournament and most in surprisingly easy fashion. He beat Ray Rice with 62%, got the biggest challenge from Matt Ryan edging him with 51%, took 60% against Jamaal Charles, and then pulled off the biggest upset by knocking off the favorite Aaron Rodgers with 61%. The finals were his biggest blowout. Hillis beat Vick with 66% of the vote.
The supporters for Hillis came from all over and were passionate in their campaign. Largely credited with his success are the strong organization of fans in social media channels and the Browns using their resources including the team's official website. It wasn't just Browns fans though as he got a big boost from his alma mater. Immensely strong support came from Arkansas Razorbacks fans and that, along with the other factors, were what separated him from everyone else in the tournament and led to his surprise victory.