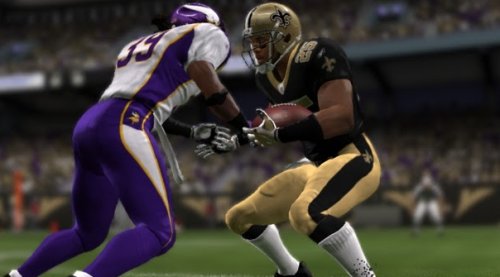 Retailers have started to post their pre-order bonuses for Madden 12 offering significant credits and exclusive extra teams. Last year Madden 11 was able to be had for what amounted to $40 at release and that is the case yet again with Madden 12.
•Amazon is offering a $20 credit and exclusive "All-Rookie" (featuring players such as Cam Newton and Patrick Peterson) and "All-Sophomore" (Sam Bradford, Ndamukong Suh) teams. Eventually the site will also add free overnight shipping.
•Walmart is providing a $20 site credit.
•Gamestop is giving out exclusive EA Sports "AFC All-Stars" (Peyton Manning, Ray Lewis) and "NFC All-Stars" (Clay Matthews, Devin Hester).
•Best Buy has exclusive "All-Speed" (Michael Vick, Chris Johnson) and "Heart and Hustle" (Danny Woodhead, Josh Freeman) teams.
The teams are just throw-ins but the site credits are significant and as usual Amazon has the best overall deal. These type of pre-order bonuses may take on more importance, and get more enticing, should EA Sports roll out the subscription plan in the near future and offer games for download a week before they arrive in stores.