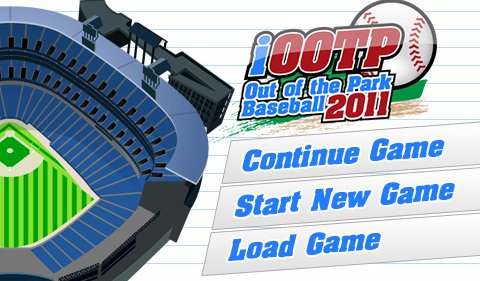 Out of the Park Baseball (OOTP) has been a mainstay on the PC for years consistently delivering a popular and highly regarded management sim. Now the game has come to iOS with the release of iOOTP Baseball 2011.
iOOTP Baseball offers three gameplay modes:
•Major Leagues: Choose a team and play out the 2011 season. Will the San Francisco Giants successfully defend their 2010 championship? Can the Philadelphia Phillies' "Fab Four" starting pitchers lead them to the playoffs again? Will the Texas Rangers be able to prove their 2010 championship series berth wasn't a fluke, despite Cliff Lee's departure?
•Fictional: iOOTP creates one of three fictional baseball worlds — 2 divisions, 8 teams; 4 divisions, 16 teams; or 6 divisions, 30 teams — and populates it with fresh players and clubs. Select a team and build a dynasty from scratch.
•Historical Replay: Choose one of three past seasons — 1923, 1965, or 2004 — and see if it produces a different outcome.
After selecting a gameplay mode, choose a team and handle every aspect of managing:
•Manage your team: Assemble your pitching staff and assign starting and bullpen roles. Create depth charts and batting lineups, including the ability to set lineups against right- and left-handed pitchers.
•Call the shots: Decide when to steal bases, bring in relief pitchers and pinch-hitters, put on the hit-and-run sign, pitch out with speedy runners on base, tweak your defensive alignment, and more.
•Step into the shoes of the General Manager: Negotiate contract extensions, sign free agents, put together trades, draft first-year players, promote players from the minors, put players on the disabled list, and more.
During games, the play-by-play text is generated from a huge database of tens of thousands of lines that bring the action alive. Bottom of the ninth, two outs, bases loaded, you're down by two runs and you have your best hitter stepping to the plate against your opponent's rock-solid closer … What will happen next?

During the season, news tickers bring you headlines from around the leagues as computer-controlled teams make decisions that you will need to pay attention to and possibly counter. Your biggest rival just pulled off a blockbuster trade with the trading deadline looming … How will you respond?

iOOTP's realistic simulation engine generates extensive statistics for your perusal. You have plenty of options for assessing your players' output and making managerial decisions, and at any time you can view the best performances in the leagues, both from an individual and team perspective.

As iOOTP's living world evolves, players develop their careers, age, and eventually retire, with a possible spot in the Hall of Fame waiting for them. New players drafted by you and groomed in the minors take their place and become the next generation of superstars.
iOOTP Baseball 2011 is already getting fantastic reviews in forums and as evidenced by its current five star customer rating. The game of course features the MLB license including the real players and teams. iOOTP sells for $4.99 and is compatible with the iPhone, iPod touch, and iPad.