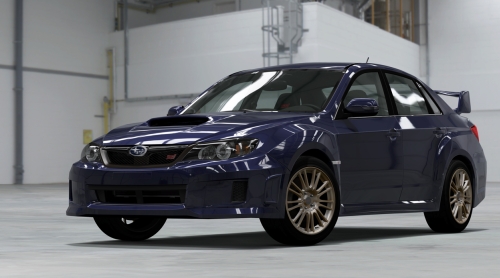 Today the Forza Motorsport 4 pre-order incentives were detailed. There will be five exclusive cars available and unfortunately they are split between five different retailers. It's likely that they'll be made available as DLC down the line but it remains frustrating to be forced into making such a choice. Check out new screenshots featuring the pre-order exclusive cars.
Amazon- Subaru Impreza WRX STI: The Subaru Impreza WRX STI is the highest standard-edition trim in the Subaru compact car line. The STI is recognized as a speed demon on race tracks, winning first place at Super GT in 2008.
Best Buy- BMW 1 Series M Coupe: Reaching top speeds of 250 km/h, the 1 Series M Coupe is the high-performance version of the famed BMW 1 Series Coupe.
GameStop- Alfa Romeo Giulietta Quadrifoglio Verde: The creation of Italian automaker Alfa Romeo and first introduced at the March 2010 Geneva Motor Show, the Giulietta contains an exclusive Quadrifoglio Verde configuration with a 1.7L turbocharged engine that will steer you to victory.
Target- Honda CR-Z EX: The Honda CR-Z EX is Honda's sport hybrid with an ultra-modern and sporty look, featuring 16" wheels and tires, low-to-the-ground stance and swooping bodywork. Additionally, its six-speed manual transmission makes it the only hybrid with three pedals.
Walmart- MINI John Cooper Works Clubman: MINI enthusiasts around the world rejoice! The JCW Clubman sports a 1.6-liter four-cylinder MINI engine that has been tuned and turbocharged to include 208 horsepower and 192 pound-feet of torque.