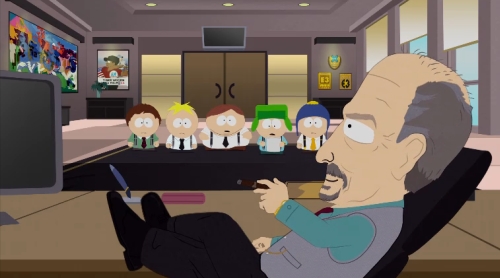 Last year South Park took on the Tiger Woods scandal in a sex addiction based episode that saw the video game turned into a topical fighting simulator. Now Trey Parker and Matt Stone have taken another swipe at EA Sports by offering commentary on the NCAA rules against compensating student-athletes and the associated video game licensing.
In the episode Cartman creates a new sports league called the 'Crack Baby Athletic Association' which involves babies fighting over crack and the rights to the video game are then sold to EA Sports. President Peter Moore makes his debut on the show as "Mr. Peters" who along with the company's lawyers swindle the boys out of the entire operation they had built up.
Though a relatively weak episode overall there are some laughs due in large part to the language and actions of Peter Moore in the scene in which he appears. That of course includes the famous EA Sports saying "Get the fuck out of my building!" The full episode can be watched on the official site while Kotaku has posted a clip of the scene featuring Moore.