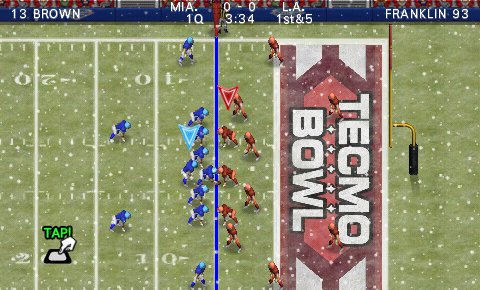 Tecmo Bowl Throwback arrived today for iOS devices. The popular retro game is available now for the iPhone (3GS/4), iPod touch (3rd/4th generation), and iPad with a hefty $7.99 price tag. TBT was released as a downloadable offering for the 360 and PS3 last year and was poorly received but may have better life on mobile devices.
There are three modes included (Preseason, Season, All-Star) with a total of 30 teams. Despite having the opportunity to obtain the NFL license to use in a mobile game Tecmo Bowl Throwback contains all fictional players, teams, logos, and colors. The two All-star squads can be customized using any players in the game.
Every action is completed with a tap of the screen including the selecting of plays, making throws, evading defenders, switching players on defense, and making tackles. With essentially only quick games and a season mode – no online play – the amount of content is light considering the price but the nostalgia may be the main selling point regardless.