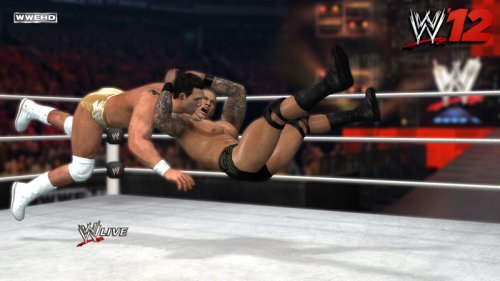 THQ today revealed a revamp to their long-running WWE franchise by first announcing a new name and following it up with the initial features and screenshots. No longer will the series go by the "Smackdown vs Raw" title instead it will go with the more traditional sounding WWE '12. Long overdue for a reboot the new branding is intended to represent significant advancement being made after having taken considerable criticism for a lack thereof this generation.
Randy Orton has received the honor of being the sole cover athlete which is another departure from the norm. New animation and submission systems, highlight reels and sharing of created wrestlers, enhanced broadcast presentation and graphics, and improvements to the core modes headline what to expect. Check out the first ten screenshots in the FB gallery and continue on for the full descriptions of the features detailed today.
EXPERIENCE THE NEW WWE! – WWE Action is redefined with new Predator Technology! This new system delivers a fresh and strategic gameplay experience that looks, feels and plays better than ever before. the gameplay you have demanded is finally here with the most fluid WWE action and realistic animations to date in a WWE videogame, improved A.I. and an all-new Breaking Point submission system!
DYNAMIC TV PRESENTATION – Witness the most electrifying presenation in all of sports entertainment. A dynamic new broadcast camera system and badder visual presentation replicate everything you see on WWE's television broadcasts. New rendering and lighting technologies will provide the most realistic WWE Superstars, WWE Divas and WWE Legends and best-looking in-ring action to date.
CREATE AND SHARE YOUR WWE – WWE '12's best-in-class creation suite gives you the ability to create Superstars, entrances, finishing moves, storylines, Highlight Reels and all-new capabilities never before seen in a WWE videogame! Go online and upload your creations to share them with the WWE Universe and download creations from others to add to your own experience.
WWE UNIVERSE 2.0 – Take control of your WWE career in a bigger, badder and better WWE universe. Your actions determine your destiny and shape your experience, as storylines, matches, alliances and rivalries are built based on your decisions.
ROAD TO WRESTLEMANIA – The Road to WrestleMania is fraught with action, drama, challenges, storyline twists and truns, and surprises. Which road will you pick, and what story will you tell, on your way to the biggest spectacle in sports entertainment?