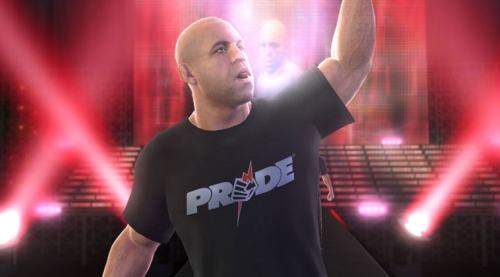 THQ today has officially announced UFC Undisputed 3 and revealed the first details on the game. Scheduled to release in January UFC 3 will offer increased accessibility and a new submission system, introduce PRIDE mode, bring in the two new weight classes (featherweight and bantamweight) with a total roster including over 150 fighters, add fighter entrances, and offer improved visuals and revamped online play. Check out the first screenshots in the gallery and continue on for more details.
UFC Undisputed 3 will mark the debut of PRIDE Mode, enabling players to fight for the first time in the renowned Japanese MMA organization. The mode will include official commentators Bas Rutten and Stephen Quadros, authentic environments and notorious MMA rules, including the ability to execute soccer-style kicks, head stomps and ground knees to the head. Finishing an opponent will be more important than ever through devastating new moves, responsive striking controls, refined visual presentation and the introduction of a brand new submission system. In addition, players will now enter the Octagon with a choice between traditional and simplified gameplay control options, enabling them, regardless of skill level, to experience the intensity of UFC and nuances of MMA combat while executing simple standing strikes or more complex ground and transition mechanics.
The change in the title from the 'year' to the edition number is also noteworthy. Poor consumer response and drastically reduced sales numbers for UFC Undisputed 2010 led to THQ moving the series off a yearly release schedule. It will have been approximately 20 months from UFC 2010 when UFC 3 arrives.
PRIDE MODE
The no-holds-barred Japanese MMA league brings with itbrutal soccer-style kicks, head stomps and ground knees to the head.
FINISH THE FIGHT
Take your opponents down with punishing new moves, a brand new submission system and increased focus on presentation.
FROM BROADCAST TO CAGE-SIDE
Experience the intensity of UFC with new camera positions, compelling fighter entrances, improved facial animations and a gritty, high contrast appearance.
GAMEPLAY ACCESSIBILITY
Get right inside the Octagon with simplified gameplay control options, brutalizing opponents after stepping into the cage for the first time.
EXTRAORDINARY ROSTER
More than 150 of the most intense UFC fighters, including the addition of Featherweight and Bantamweight divisions.
EXTENSIVE ONLINE OFFERING
A significantly revamped online experience, including both new and updated features, rounds out the best competitive fighting experience to date for the franchise.