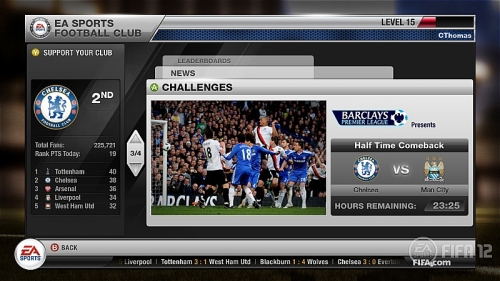 The only real piece of news generated for EA Sports out of the press conference this morning had to do with FIFA 12 and the introduction of "EA Sports Football Club". Though nothing revolutionary – similar features have been included in past FIFA's and NCAA Football – the new experience looks to bring everything together and take advantage of the worldwide user base of FIFA fans that is unmatched by any other sports game.
EA SPORTS Football Club creates a new social experience where football fans can connect and compete with their friends and millions of other fans playing FIFA 12, where status, bragging rights and progression are all measured and ever-changing. For the first time ever, everything that happens within EA SPORTS FIFA 12, and against friends, is measured in a meaningful way. Every match matters, all season long. Earn experience points and level up to build your status. Track friends, challenges and status through the web at easportsfootball.com. Share and compare accomplishments and spread the news on social channels like Facebook.
There will be no additional charge to utilize EA Sports Football Club. Check out new screenshots for the feature in the FB album and leave your thoughts on the feature in the comments!