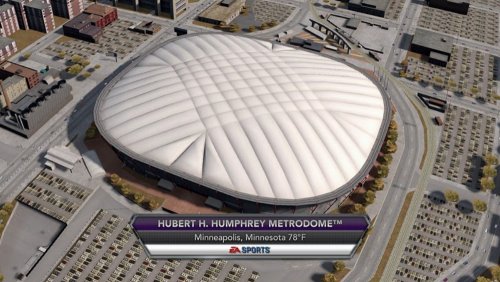 Having now cruised out of Los Angeles and to Las Vegas – where apparently the internet is more reliable – expect videos for Madden 12 to flow out over the coming days. In this update the off-screen footage covers a game with the Tampa Bay Buccaneers at Minnesota Vikings including the entrance, some gameplay, and a challenged play. There will be more to come from this game and others.
Check out the Facebook album for the entire collection of 'player traits' posted so far. There are still 125 more to go up and I'll continue posting several to Twitter and Facebook at random times and doing a larger group each evening for the next few days.
Players added since the last update: Darrelle Revis, Tom Brady, Hakeem Nicks, LeSean McCoy, Josh Cribbs, Brandon Marshall, Greg Jennings, Colin Kaepernick, Richard Seymour, Mark Ingram, Julius Peppers, Donte Whitner, Ryan Kerrigan, Sam Bradford, Jared Allen, Philip Rivers, A.J. Green, Charles Woodson, DeMarcus Ware, Jeremy Shockey, Darren Sproles, Carson Palmer, Charles Johnson, Chris Long, Ricky Williams, Robert Mathis, Jimmy Smith, Nate Clements, Mark Clayton, LaRon Landry, Jimmy Clausen, DaQuan Bowers, Derrick Johnson, Jacoby Jones, James Laurinaitis, John Kuhn, Thomas Jones, and Willis McGahee.
Continue on to check out the videos and continue to leave your thoughts on them and the 'player traits' in the comments!