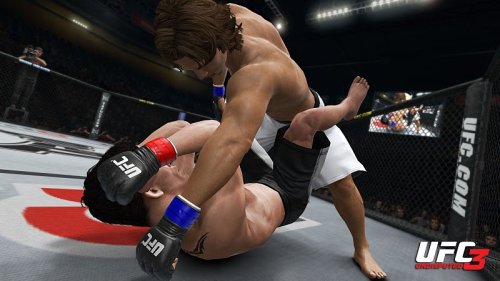 Heading into E3 THQ had already announced a range of features for the upcoming UFC Undisputed 3 that is scheduled to release in January. Considering the timing it would have been asking a bit much to expect hands-on gameplay and even what was presented was more than would have been anticipated a few weeks ago.
A nearly ten minute video was shown which went over many of the features and improvements being introduced in UFC 3 along with actual gameplay footage. We came away from the presentation encouraged overall but with lingering concerns in a few areas.
The UFC series moved off a yearly release schedule after poor consumer response and a sharp drop in sales made it clear that more would have to be done with each iteration than was offered with the move from 09 to 10. In that sense THQ is in strong position to deliver with the new features such as PRIDE and the bantamweight and featherweight divisions,simplified control option, improved visuals, and revamped online play (which trepidation towards will be warranted).
The graphics looked sharp with vastly improved lighting and more realistic player models and faces. The new fighter entrances came across really well and it looks like the announcers will even be modeled into the game. A change from a broadcast style camera angle to a more traditional fighting game style camera would look to be a positive change during gameplay but some will probably prefer the old camera regardless.
At first it was a fair concern that a simplified control option would provide a built-in advantage to less skilled players compared to those who are comfortable with the advanced controls. That doesn't seem to be the case, and while making the process of transitioning simpler, it takes away options such as the ability to choose direction of transition and faint transitions. Therefore those who put the time in to get accustomed with the advanced controls will be rewarded, but the game will be more accessible in general because of the simplified controls being available.
The gameplay footage looked somewhat rough but part of that could be attributed to how they put it all together. It appeared to be footage where just a single player was allowed to do whatever they wanted – think having two user controlled fighters and they put the second controller down. This way they got highlight quality moments but in turn they were less natural looking than would be typical if an opponent was fighting back or being defensive.
There was a big emphasis made on "finishing the fight" which is somewhat ironic considering very few fights in UFC 2010 actually would make it to the judges. Basically the developers seem to be going for drama though at the same time trying to provide a realistic experience both standing and on the ground…with the exception of the new submission system being implemented.
When locking in a submission a mini-game pops up on screen with a graphic in the shape of an octagon. Each fighter has a colored bar, the size of which is dependent on factors such as ratings and stamina, and then it becomes essentially a game of cat and mouse. The fighter attempting the submission wants to catch and cross over the opponent's bar while the one trying to escape will have to avoid it.
Not only does it sound somewhat silly in nature but what is most bothersome is how it takes eyes away from the action and on to a mini-game. The actual mechanic of it is sound and similar to what was used when attempting a choke in EA Sports MMA, but the intrusive display of such a mini-game would damage the immersiveness and realism of the experience.
Not a single person we talked to who saw the presentation necessarily liked what was being done with the submission system. Needless to say some action on THQ's part will be necessary, and the opportunity is there given plenty of time remains in development to make a change.
UFC Undisputed 3 has the opportunity to reestablish the series as a premiere one with sports gamers and fight fans. Many of the features and improvements are compelling but there is a lot of work to be done before the game hits in January.