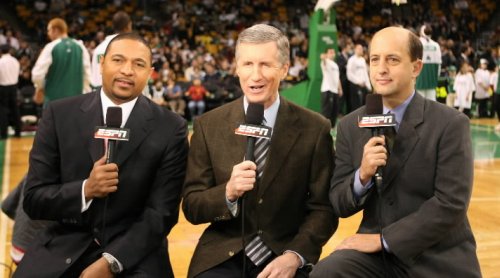 Through all the events of last week one piece of news that will impact an upcoming title flew somewhat under the radar. Mark Jackson accepted the job coaching the Golden State Warriors. Having joined on as commentators for the canceled NBA Elite 11 the ABC trio of Mike Breen, Jeff Van Gundy, and Jackson had been slated to continue even as the series is being retooled for release in October 2012.
Steve Kerr stuck as the NBA Live color commentator even after becoming the Phoenix Suns' General Manager. There is a big difference however in that largely behind-the-scenes role and being a head coach. That isn't just limited to assessing players whether on his own team or other teams but the awkwardness that would be created in commentating on his own team's games while his character has a presence on the sideline.
In all likelihood EA Sports will have to either remove Jackson or replace him. That would seem to be a major hit to what was one of the few encouraging elements of Elite and whatever the new product will be called. The prospect of banter between him and Van Gundy was intriguing and Jackson brought his own highly recognizable catch phrases such as "hand down, man down" and "mama there goes that man".
The biggest damage comes in that there was already the first year's worth of an audio library built utilizing Jackson that would've seemed fresh and with plenty of time to build on it during the development process. Now EA will be faced with stripping him out, possibly having to re-record some of Breen and Van Gundy's lines, and decide whether to bring a third party into the booth -and wait for ABC's decision on who that will be first – that would have to start from scratch.