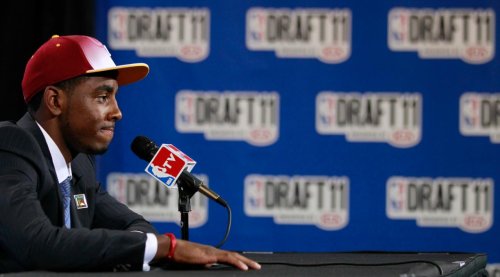 Overwhelming opinion was that the 2011 NBA Draft was soft on premiere talent outside of the top two names though good players surely will develop out of the class. The Cavs went in with #1 and #4 and as expected snagged PG Kyrie Irving and then generated a mild surprise by taking PF Tristan Thompson. At #2 the Timberwolves hung onto their choice and took PF Derrick Williams and will likely look to deal one of their big men to make room. The Jazz followed up at #3 by taking C Enes Kanter who's stock had been rising as of late.
The biggest trade of the day involved the Bucks, Kings, and Bobcats. Due to that the Bobcats ended up with the #7 pick (PF Bismack Biyombo), Corey Maggette, and still held the #9 pick in order to take PG Kemba Walker. The Kings got John Salmons and slid down to #10 where they grabbed PG/SG Jimmer Fredette. The Bucks came away with Stephen Jackson, Shaun Livingston, Beno Udrih, and the #19 pick (PF Tobias Harris).
The Spurs and Pacers also have reportedly agreed to a deal of PG George Hill for the #15 pick SF Kawhi Leonard. Portland and Denver have worked out a swap of Raymond Felton for Andre Miller that also will land #25 pick SF Jordan Hamilton via Dallas ending up with the Nuggets as Rudy Fernandez goes to the Mavs. The Timberwolves and Rockets agreed to PG Jonny Flynn and #20 pick SF Donatas Motiejunas for C Brad Miller and the rights to the #23 pick SF Nikola Mirotic – who was flipped to the Bulls in another deal. One other cool story involved the Morris brothers out of Kansas. The twins were picked back-to-back with Markieff going to the Suns at #13 and Marcus to the Rockets at #14.
With all the events on draft day what teams do you think did the most to improve for the 2011-2012 season (if it actually happens) and what teams now have better prospects for use in NBA 2K12? Leave your thoughts in the comments!