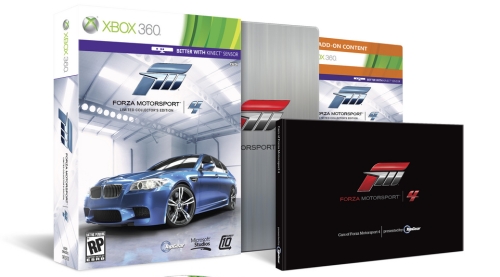 Today Turn 10 announced details on the Limited Collector's Edition of Forza Motorsport 4. The LCE will sell for $80 and come in a steelbook DVD case delivering with it 25 extra cars, a 96 page book describing the cars and featuring images from the game and the Top Gear gallery, and a vinyl sticker set. An exclusive BMW dashboard theme and VIP membership status in the Forza community will also be granted.
The BMW Art Car Pack
2008 BMW M3 E92
2008 BMW Z4 M Coupe
1981 BMW M1
2012 BMW M5
2010 BMW M6 Coupe w/ winning design from the "Forza Motorsport 4" BMW Design Challenge.
The VIP Car Pack:
2011 Bugatti Veyron Super Sport
2011 Ferrari 458 Challenge
2011 Lamborghini Gallardo LP570-4 Superleggera
2010 Noble M600
2011 RUF Rt 12 R
The limited quantity "Ship Bonus" car pack
1965 Ford Mustang GT Coupe
2011 Koenigsegg Agera
1997 Lexus SC300
2011 RUF RGT-8
2011 Tesla Roadster Sport
In addition to those above there will be ten "classic American Muscle cars" included. Forza 4 is slated to release for the Xbox 360 on October 11th. Also check out ten new screenshots in the gallery or FB album!