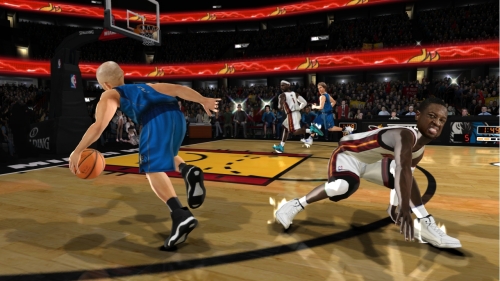 The follow-up to last year's return of NBA Jam will deliver new features and improvements which seem directed at addressing what prompted much of the criticism towards that game. Included in that is the return of 'tag mode' and 'team fire' along with a new AI system being borrowed from the Fight Night series. NBA Jam: On Fire Edition is set to release in October and will be digital download exclusive to XBLA and PSN reportedly going for $15.
Check out the first 18 screenshots in the gallery or FB album, continue on for a description of the features, and leave any thoughts in the comments!
Enhanced Gameplay — In addition to vast improvements to the core experience and more variety across the board, NBA JAM: On Fire Edition will include a Tag Mode where gamers can swamp players on the fly, Team Fire – the ability to ignite your entire team and Razzle Dazzle – special style moves that allow players to creatively express themselves in the midst of gameplay.
REAL A.I. – Using the groundbreaking AI system from the Fight Night series, NBA JAM: On Fire Edition will feature more organic play giving gamers a less robotic and more real gameplay experience. AI behavior will be based on Archetypes – Big Man, Forward, All-Rounder, Shooting Guard and Point Guard. In addition, at any given time gamers have the option of playing against their own AI for the ultimate challenge.
He's Back! – Boomshakalaka! Legendary Tim Kitzrow is back and bringing more unforgettable calls for NBA JAM: On Fire Edition!
JAM Arena – Play solo, or team up with friends and take on the world in a new, dynamic online competition.
Road Trip – A cooperative online campaign where you can team up with friends and compete in a series of white-knuckle challenges against the current superstars and timeless legends from each of the 30 NBA Teams.
More NBA JAM Hotness – Online roster updates, more NBA superstars, legendary NBA players, over-the-top animations, JAM challenges, secret teams and unlockable characters than ever before!