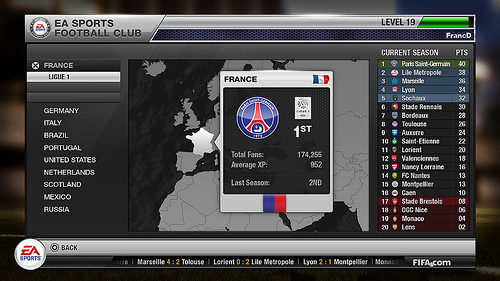 The only announcement made at E3 by EA Sports had to do with the "Football Club" feature which is being introduced with FIFA 12. Even though similar elements of the feature have been utilized by FIFA and other franchises in the past – think of this as an attempt at a more relevant NCAA Football "Season Showdown" – Football Club hopes to provide even more reason to play FIFA year round and do so for no additional charge. 
•XP will be earned by playing FIFA 12 in any mode and by completing various tasks. That XP helps to "Support Your Club" with the one of choosing receiving those points (on an average per user basis) and being ranked against others within their leagues.
•New "Football Club Challenges" to complete on a regular basis prompted by real life events. This will be familiar to those who played 2010 FIFA World Cup or tried "Madden Moments" but with more support behind producing them.
•A news feed system for FIFA will deliver data and results to friends and also make it possible to spread the info through social networking sites.
Check out expanded details in the blog posted by EA Sports today. Dedicated FIFA fans are a different breed so maybe these ideas will take off here but similar ones have fallen completely flat with other undertakings most notably "Season Showdown" for NCAA Football. Considering the way they've hyped it up I'm just not seeing anything revolutionary with EA Sports Football Club except that they're providing it for free.