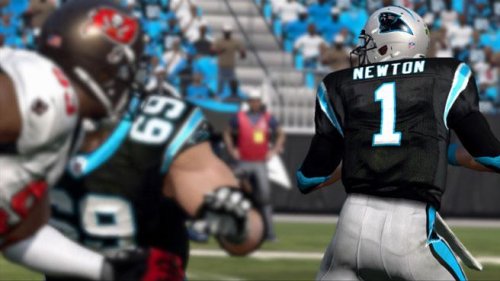 Quarterbacks are likely the most difficult position to rate for incoming rookies. As the most high profile position fans tend to know them and have cemented certain perceptions and expectations. Those rarely matter though as even top QBs often sit on the bench for a year or two meaning no contribution in Madden. Those who do play immediately and perform well don't put up statistically great seasons and rarely lead their teams to the playoffs. Continue on for a look at the top ten rated rookies QBs in Madden NFL 12. 
(77) Cam Newton – Panthers RD 1 Pick 1
(75) Blaine Gabbert – Jaguars RD 1 Pick 10
(74) Jake Locker – Titans RD 1 Pick 8
(73) Christian Ponder – Vikings RD 1 Pick 12
(71) Andy Dalton – Bengals RD 2 Pick 3
(70) Colin Kaepernick – 49ers RD 2 Pick 4
(69) Ryan Mallett – Patriots RD 3 Pick 10
(68) Ricky Stanzi – Chiefs RD 5 Pick 4
(66) T.J. Yates – Texans RD 5 Pick 21
(65) Greg McElroy – Jets RD 7 Pick 5
Only 12 QBs were drafted which means a top ten list isn't going to make for much controversy. The overall ratings go pretty much down the line based on draft order. Omitted are Nathan Enderle (5th round) and Tyrod Taylor (6th round) who don't make the list due to the inclusion of McElroy.