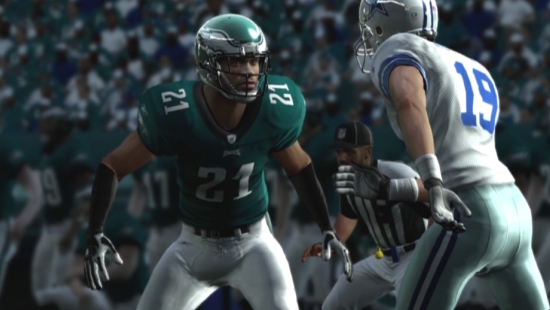 The most prized free agent this year, cornerback Nnamdi Asomugha, has agreed to terms with the Philadelphia Eagles. Not considered a contender for Asomugha particularly after dealing Kevin Kolb for Dominique Rodgers-Cromartie they were able to steal him away from teams like the Jets and Cowboys who were considered the front-runners late in the process. The Eagles were already tops of the transaction 'winners' posted earlier today but this vaults them into a whole new category.
Asomugha will enter Madden NFL 12 rated as a 98 overall. He joins a team chock full of explosive talent. Michael Vick at QB with Vince Young as the backup, LeSean McCoy at running back, and burners like DeSean Jackson and Jeremy Maclin at receiver. On defense they just added Pro Bowler Jason Babin to go along with Trent Cole and Rodgers-Cromartie at corner. Asante Samuel may now be on the way out but presumably the team would be able to pick up a decent pick or player in return for him in a trade. The only glaring weakness may be at linebacker…which can be covered up in Madden by using different formations to limit the need for them.
The 2011-2012 Philadelphia Eagles have to enter the discussion of best Madden teams ever. How they will perform as a team remains in question but in video game terms it's difficult to argue against the bevy of talent put together that feature traits known for excelling in Madden.
(Update) Now the Eagles have signed DT Cullen Jenkins. Seriously. Just ridiculous.