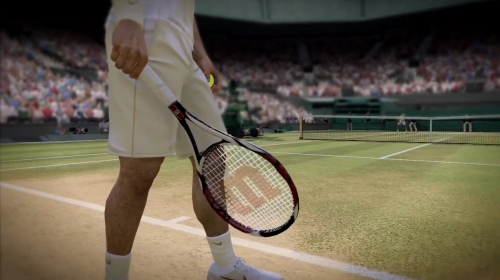 EA Sports has finally announced one of the three mystery titles set to release in early 2012. Grand Slam Tennis 2 follows up on the 2009 Wii original by coming to the Xbox 360 and PS3. The game will feature all four majors, right analog stick shot controls, personalized AI, 10 year career mode, and 25 moments from history to recreate. 
•All-New Total Racquet Control: Control every shot with the right analog stick, smashing forehands, backhands, overheads and volleys with precision, accuracy and power. Utilize this innovative control system to take your game to the top! But if you prefer the old school button controls, those are still available!
•Become a Champion: Become a true Grand Slam tournament champion by capturing all four major championships in succession. The prestige of some of the most historic events in tennis come alive like never before, including the Australian Open, French Open, U.S. Open and exclusive to EA SPORTS Grand Slam Tennis franchise – Wimbledon.
•PlayStation Move Support: The motion control experience gets you on your feet and puts a racquet right in the palm of your hands. From casual players to tennis masters, you truly have the chance to swing your way to victory.
•Legends of Now and Then: Play with or against more than 20 of the greatest players to ever grace the courts, including Roger Federer, Rafael Nadal, Novak Djokovic, Bjorn Borg, Maria Sharapova, Serena and Venus Williams and exclusive to EA SPORTS Grand Slam Tennis franchise, seventeen-time winner of a Grand Slam tournament John McEnroe.
•Professional, Realistic, Organic (P.R.O.). AI: The playing styles and behaviors of the sport's greatest stars are captured right down to their signature swings and emotional reactions. Realistic tactics and strategies are your keys to success against each legend whether playing on hard court, clay or grass. The organic artificial intelligence adapts to your game so there's never a dull moment!
•ESPN Grand Slam Tournament Classics: Relive some of the most memorable moments in tennis. From Borg versus McEnroe to Nadal versus Federer, play your way through history unlocking up to 25 amazing moments of Grand Slam tournaments.
•Deep Tennis Experience: Play countless hours of tennis in Grand Slam Career mode – singles and doubles, through a 10-year career or battle online. A wide variety of online gameplay features, Photo Game Face and more keep your experience fresh and authentic.