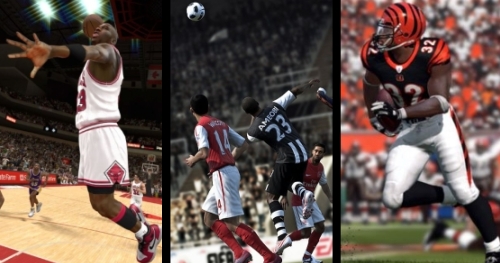 The last few years have brought about a huge shift in the way companies interact with consumers and that applies in the sports gaming world as it does most everywhere else. It felt as though it was time to take a look at the social presence of the gaming companies and their respective titles in terms of numbers.
Total follower count of course reflects potential reach but isn't necessarily representative of the most activity or impact. Certain companies are much better at engaging with consumers and opening the lines of communication rather than just utilizing the avenues for marketing purposes.
The FIFA series dominates on Facebook where it nearly triples the count of NBA 2K which rests comfortably in second place. The account for WWE games holds the highest Twitter number with FIFA close behind. SCEA hasn't seemed to put much effort if any at all into social channels for MLB: The Show. On Twitter EA Sports operates both a company account and individual game accounts, while 2K Sports handles all their titles under the one company account.
EA Sports: Facebook 430K, Twitter 110K
Madden NFL: Facebook 787K, Twitter 23K
NCAA Football: Facebook 919K, Twitter 11K
NHL: Facebook 422K, Twitter 22K
NBA: Facebook 326K, Twitter 10K
FIFA: Facebook 5.48M, Twitter 46K
Tiger Woods PGA Tour: Facebook 187K, Twitter 10K
2K Sports: Facebook 87K, Twitter 210K
NBA 2K: Facebook 2.05M
MLB 2K: Facebook 151K
SCEA
MLB: The Show: Facebook 86K, Twitter NONE
THQ
WWE: Facebook 1.06M, Twitter 56K
UFC Undisputed: Facebook 604K, Twitter 13K