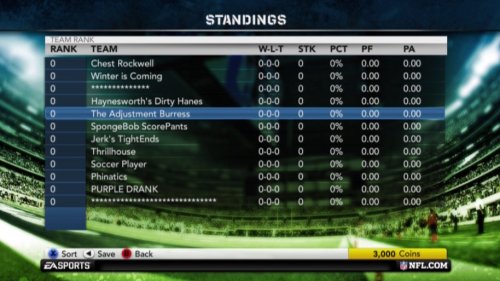 Madden NFL 12 has partnered up with the league to integrate their fantasy football service into the video game. EA Sports will also be providing projections for the fantasy site based on internal simulations. By linking a fantasy league in Madden NFL 12 EA will be providing 3000 coins (value of $1) that can be used in Madden Ultimate Team mode or for online scouting.
NFL.com's Fantasy Football can be accessed from within the Xbox Live section of the Madden 12 menu. After signing in with the respective NFL.com credentials there can be found current scores, league standings, transaction history, and "in-game updates" which aren't explained but probably add news and results to the ticker throughout the Madden 12 menus. There is no ability to make any changes to teams through the Madden 12 setup – essentially it is just for viewing what is current in the league.
There are two teams within my league that have their names censored and the custom logos do not transfer over which is somewhat disappointing from a display standpoint. The whole thing may not be completely necessary – most people will just pull up the info on their computers and have more options at their fingertips – but there's no harm in its inclusion especially since the NFL.com leagues are probably the best out there now.