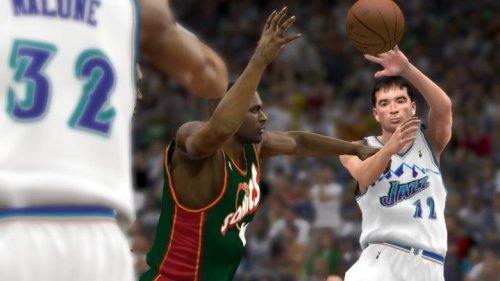 The Xbox 360 achievements for NBA 2K12 have been uncovered and with that a few new – yet to be announced – features have actually emerged. Perusing the list finds achievements related to new features for My Player mode and potentially the introduction of an online-connected Association mode. 
•Purchase 3,000 skill points in a single transaction in My Player mode.
•Purchase Michael Jordan's dunk package (His Airness) in My Player mode.
•Land a contract that pays at least $10M per season in My Player mode.
My Player looks to have gotten some significant enhancements with the arrival of player contracts and a currency system to spend on skill points and skill packages.
•Create a My2K Account.
2K Sports recently pulled down their community website which also hosted the online leagues. My2K would presumably be the new community initiative that will be launched in time for the NBA 2K12's release.
•Join an Online Association.
This could be the big one if it is a true online "Association" (multi-season w/ free agents, trades, contracts, NBA Draft) and not just re-branded online leagues.