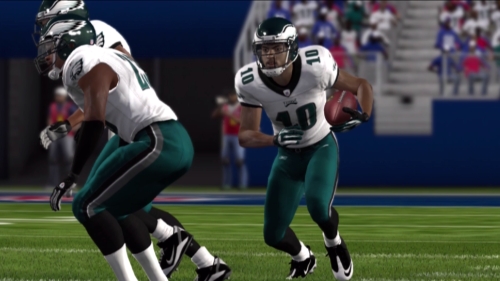 With 36 players in the NFL being identified as "Clutch" through the Madden NFL 12 player traits the one left out who is most deserving of recognition is thought to be DeSean Jackson. The "Clutch" trait in Madden 12 provides a ratings boost in late game or high pressure situations.
Over 4800 people chimed in by voting in the poll which offered up Jackson, Calvin Johnson, Matt Ryan, and Mark Sanchez – the names most brought up in discussion regarding the topic. Jackson pulled in 31% of the vote and was comfortably ahead wire-to-wire. The runner-up was Ryan with 25% and he was followed by Megatron (18%) and Sanchez (8%). 18% of voters thought none of the four deserved to be "Clutch" in Madden NFL 12.
Jackson has come up big in critical moments – of course the one that immediately comes to mind is the punt return TD that beat the Giants as time expired. Being "Clutch" isn't necessarily just about making a game winning play but also performing when it matters and when under pressure. Other prime examples from just last season would be the 88 yard touchdown reception on the first play against the Redskins on Monday Night Football after being taunted pre-game regarding the brutal concussion he suffered a month prior, or the 91 yard TD reception in the 4th quarter of a tie game at Dallas.