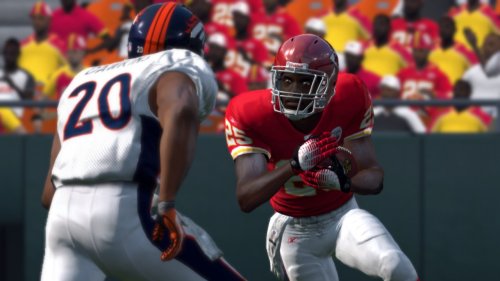 It's still very early in the NFL season but certain trends have already begun to emerge and individual players have either reestablished themselves coming off last season or are showing signs of breaking out. While there probably won't be many huge ratings swings in this week's Madden NFL 12 roster update it should be setting up for that time which justifiably is nearing.
Another round of severe injuries has landed Jamaal Charles, Thomas Davis, Nick Collins, and Jordan Shipley on IR. Miles Austin, Gabe Carimi, and Nick Mangold will all be out for several weeks but have at least avoided the season-ender.
The Lions continue to impress – though against the Chiefs who may be in the running for worst record this season – and that should bring them more upgrades than they got in the previous update. Daniel Thomas in his debut for the Dolphins proved to be another impressive rookie who could see an immediate update and Raiders' rookie receiver Denarius Moore emerged from out of nowhere. Andy Dalton and A.J. Green are starting to show encouraging signs together as well. It's been surprising the impact rookies have had after all the talk that they would struggle due to losing most of training camp.
Other top performers in week two or so far this season: Vincent Jackson, David Nelson, Rob Gronkowski, Quintin Mikell, Earl Thomas, Fred Jackson, and Eric Decker. Mike Kafka came in for the injured Michael Vick and looked capable – while it appears the Jaguars will be making a QB change and going to rookie Blaine Gabbert earlier than they had hoped they would have to.
As always leave your thoughts in the comments on what players and teams deserve ratings boosts or declines based on performance in week two and so far this season!