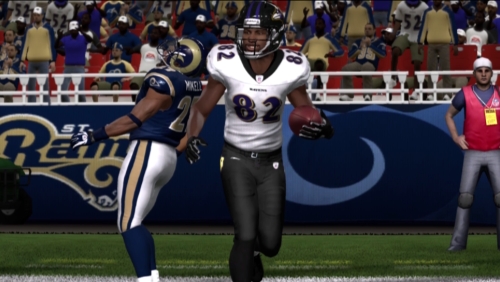 Generally it takes about a quarter of the season to look at performances as more than just anomalies and go beyond trends – and now through three games those new perceptions of players and teams are starting to be solidified. The Bills, Lions, and Raiders are being taken seriously while those like the Vikings and Dolphins are worse off than expected.
Calvin Johnson has a good shot at getting the "clutch" trait in the update. He has made a number of big plays over the course of his career – doing so in a dramatic comeback over the Vikings that took the Lions to 3-0 and included the critical catch in OT would seem to be the final justification to officially label him as "clutch". In injury news the Titans will lose their top receiver Kenny Britt as he heads to the IR but it looks like Michael Vick won't be out an extended period of time if he is to miss any game action at all.
Top performers this week included Victor Cruz who was able to burn the vaunted Eagles secondary, Torrey Smith who broke out with his first three catches as a rookie all being TDs, and Jermichael Finely matched that with three TD catches of his own. Wes Welker collected huge numbers (16 receptions, 217 yards, 2TD), Daniel Thomas is showing he's the best running back on the Dolphins, and Darren McFadden ran over the Jets defense. Rob Gronkowski, Denarious Moore, Chris Clemons, and Calais Campbell also had impactful games.
It would seem about time to start looking at high profile players who aren't meeting expectations and being to slide them down. Chris Johnson has only 98 yards rushing, Frank Gore hasn't done much, Reggie Bush hasn't been the featured back the Dolphins claimed him to be, DeAngelo Williams got a huge contract but is putting up a terrible 2.3 yards per carry, and Chad Ochocinco is largely non-existent but still found his way into the spotlight with a dropped TD pass.
As always leave your thoughts in the comments on what players and teams are deserving of upgrades or should see downgrades in the upcoming Madden NFL 12 roster update!