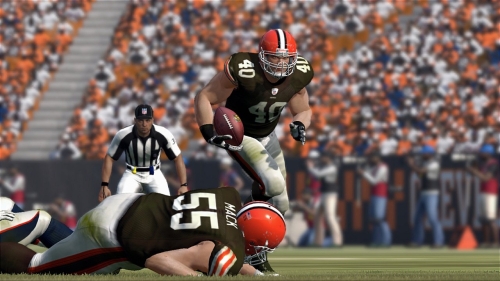 Going into the season Madden NFL 12 presented a group of 36 players who had the "clutch" trait which provides a ratings boost in pressure situations. After just one week that group lost a member as Eli Manning had it removed. He had been considered on the edge to begin with and a poor first performance did him in. There are a number of others within the group that could be close to losing their designation just as Calvin Johnson appears likely to earn the honor possibly as early as with this week's roster update.
Peyton Hillis, Marshawn Lynch, and Maurice Jones-Drew are the only running backs currently considered "clutch". It's surprising that such a high profile position would be so limited in this area but it seems their opportunities to establish themselves in this light are few and far between – at least in the way the trait attempts to distinguish one type of player from another. Tracy Porter is the other name that stands out for not exactly fitting in a group of primarily top-tier players.
Once someone is perceived to be "clutch" it becomes hard to imagine them in a different light – just as those who have struggled under pressure have an uphill battle to shake the image of being a "choker". In this case these four players really aren't widely thought of as "clutch" – they just found themselves in because of one tremendous play or maybe as a favor to the cover athlete and a supporter of the product. So who do you think will be the next player to lose his "clutch" trait in Madden NFL 12?