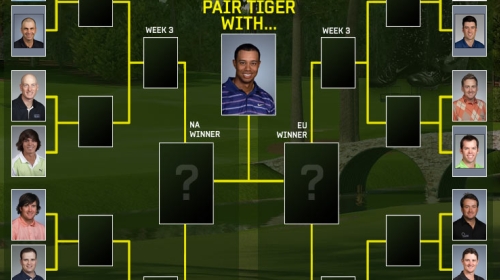 Following his well-publicized indiscretions Tiger Woods has shared the cover of his EA Sports golf franchise with Rory McIlroy and taken the back seat to a golf course. This year Tiger's presence will again be minimized as he fights through on-course struggles that could risk his place as the frontman through a tournament that will determine who the golfer alongside him will be – one for the cover in North America and the other for Europe.
The candidates and first round match-ups (US): Dustin Johnson vs Rocco Mediate, Jim Furyk vs Rickie Fowler, Bubba Watson vs Zach Johnson, Hunter Mahan vs Ben Crane. (EU): Rory McIlroy vs Edoardo Molinari, Graeme McDowell vs Justin Rose, Ian Poulter vs Paul Casey, Luke Donald vs Paul Fisher.
Vote through Facebook here for who will appear on the cover of Tiger Woods PGA Tour 13. Each round of voting lasts a week with the winners being determined three weeks from now.