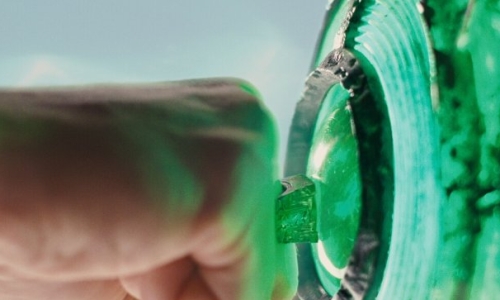 This week's group of DVD/Blu-ray releases are an uninspired bunch – with the biggest one Green Lantern having been a bomb at the box office while the comedies and The Tree of Life generated starkly split reaction amongst audiences. 
•Green Lantern (Buy at Amazon: DVD or Blu-ray/DVD Combo)
In a universe as vast as it is mysterious, an elite force of protectors for peace and justice has existed for centuries. They are the Green Lantern Corps. When a new enemy called Parallax threatens to destroy the Universe, their fate and the fate of Earth lie in the hands of the Corps' newest recruit, the first human ever selected: Hal Jordan. Stars Ryan Reynolds and Blake Lively.
•Horrible Bosses (Buy at Amazon: DVD or Blu-ray/DVD Combo)
Three friends conspire to murder their awful bosses when they realize they are standing in the way of their happiness. Stars Jason Bateman, Charlie Day, and Jason Sudeikis.
•The Tree of Life (Buy at Amazon: Blu-ray/DVD Combo)
Directed by Terrence Malick the impressionistic story of a Texas family in the 1950s. The film follows the life journey of the eldest son, Jack, through the innocence of childhood to his disillusioned adult years as he tries to reconcile a complicated relationship with his father (Brad Pitt). Jack (played as an adult by Sean Penn) finds himself a lost soul in the modern world, seeking answers to the origins and meaning of life while questioning the existence of faith.
•Zookeeper (Buy at Amazon: DVD or Blu-ray)
A group of zoo animals decide to break their code of silence in order to help their lovable zoo keeper find love — without opting to leave his current job for something more illustrious. Stars Kevin James and Rosario Dawson.
•Bones: Season 6 (Buy at Amazon: DVD or Blu-ray)
After a much-needed break, forensic anthropologist Dr. Temperance Brennan (Emily Deschanel) and FBI Special Agent Seeley Booth (David Boreanaz) return to the Jeffersonian Institute, along with their team of investigative "squints," for another darkly humorous season of murder, mystery, controversy and chemistry. In addition to a vast array of personal crises, ranging from Angela's secret pregnancy to Booth's new relationship with a beautiful reporter, the team tackles a complex caseload of gruesome crimes that includes facing a murderous Chupacabra, a trip to the Jersey Shore, the final return of the Gravedigger, and a vigilante sniper with a deadly link to Booth's past.
•Chuck: Season 4 (Buy at Amazon: DVD or Blu-ray)
In the Chuck Season 4 DVD, "Chuck" continues its highly entertaining blend of drama, comedy, and romance. Nice guy computer nerd and newly minted CIA agent Chuck Bartkowski (Zachary Levi) is finally teamed, both personally and professionally, with the lovely and deadly CIA agent Sara Walker (Yvonne Strahovski). At the beginning of the Chuck Season 4 DVD, Chuck and best buddy Morgan (Joshua Gomez) search for Chuck's long missing mother Mary Bartkowski (extended cameo by Linda Hamilton), thought to be a rogue agent working for the villainous international arms dealer Alexei Volkov (a superbly over-the-top Timothy Dalton).