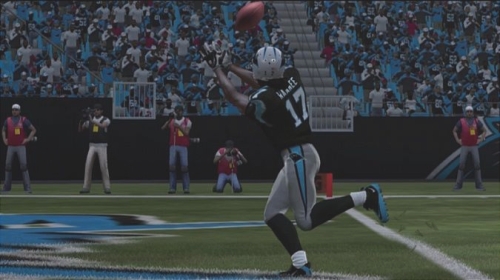 The release date shift for Madden NFL 12 meant the entirety of its first four weeks of sales landed in September as opposed to the first three weeks coming in August as has been the case in year's past. That allowed Madden 12 to top the sales charts edging out Gears of War 3 which sold over 2 million copies – though beyond that the specific numbers have not been provided.
Based on the 10% rise in its first week announced by EA Sports – if that number carried through the month (and evidence would suggest it did or even increased) that would make for an approximate sales total of 2.4 million copies for Madden 12 in its first 4+ weeks. Even more interesting though is the rise in relevance of the FIFA series in the US. 
After dipping with Madden 10 the past two years have brought initial sales bumps – with Madden 12 marking about a 19% increase since then. Word of mouth this year has been relatively strong, certainly compared to last year, so long-term sales potential through the holidays looks up as well. The excitement over the NFL season combined with the later release seemed to propel Madden 12 out of the gate – along with a strong marketing campaign that began way back in March increasing awareness and keeping Madden relevant even throughout the lockout.
As with many sports titles now there are other factors present in boosting immediate purchases – the two of which here are the "Online Pass" and promotional credits from retailers. Amazon and Walmart offered $20 promo credits with purchases making it essentially a $40 investment for the game brand new on day one. It won't be until probably Black Friday that the game will be found for less – and even used copies will be more until about then given the $10 needed then to spend on the "Online Pass".
FIFA 12 was able to finish in 4th place – the highest it has ever reached. Though it is the biggest selling sports game of all-time worldwide that widespread interest has never fully translated over to North America but it has been making consistent progress. Last year it reached 5th in cracking the top 10 for the first time. The 4th place finish this time around is even more telling considering it was only on the market for five days of NPD reporting. It was able to beat out NHL 12 for the first time ever in North America (it was 4th last year and 5th this year) and that offering had been available for 19 days in comparison.