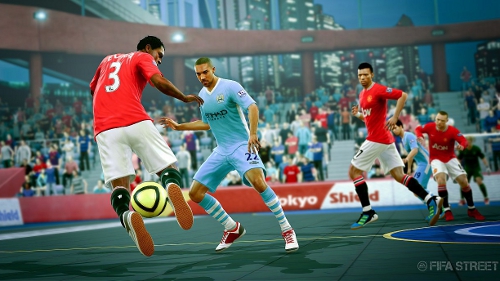 EA Sports today released the first set of images for the upcoming FIFA Street – and the first features to expect out of the game have also been detailed. Expected for release in March (and available to 'Season Ticket' subscribers 3+ days early) FIFA Street will be a full retail release unlike recent arcade-style titles like NBA Jam: On Fire Edition or the upcoming NFL Blitz which have gone the digital download route.
FIFA Street will utilize the acclaimed FIFA series gameplay engine along with keeping a realistic art style rather than incorporating cartoon-like character models. It will also include a new skill moves system, unique environments, and the EA Sports Football Club (introduced in FIFA 12). Check out the first 15 screenshots from FIFA Street in the gallery or FB album and continue on for the initial list of features.
•Complete Authenticity— The most authentic street soccer game ever created replicates the way the game is played by players all over the world. Everything from the environments to the gear to the music is true to the sport and its culture.
•Street Ball Control—  Enjoy a superior fidelity of ball control and responsiveness than anything ever experienced. Street Ball Control replicates the touch, creativity and flair players bring to the streets. Take on the challenge of beating—and embarrassing!—your opponent in one-on-one battles, utilizing new dribble styles, and an arsenal of new skill moves.
•Standing Dribble— Bait and beat opponents in one-on-one battles! From a stationary position, maneuver the ball backwards, forwards and side-to-side to lure an opponent into making the first move, and then launch a counter move by beating him with a panna or trick move.
•Street Dribble— An evolution on FIFA 12's Precision Dribbling, Street Dribble puts your players in position to face opponents at any moment, lets you deftly maneuver while keeping them on their heels, and puts you in a more dangerous scoring position. Utilize close dribble touches in tight spaces, under pressure, and even while fending off an opponent.
•All-New Skill Moves— Over 50 never-before-experienced skill moves to beat your opponents and look good doing it.
•Aerial Skills— Get the ball off the ground and make your move. Show your flair by juggling, fool a defender with a pass or shot, or pull off a skill move that leaves them watching.
•World Tour— A connected, social game mode that enables you to create yourself in game, build your own team of street stars, and progress to become the best street team in the world. Compete in 16 different tournaments and complete 20 different challenges to progress from your local level to national-level, then European and ultimately world-stage tournaments. Earn over 100 different styles, tricks & celebrations to grow your player to compete with more style and flair. Plus, unlock over 225 items for your squad, including team kits, street wear, boots, environments and teams.
•Tournaments— Compete in 16 different tournaments. Play connected, against teams created by other FIFA Street gamers—all grown based on the gamers' own style and preferences. Step up your game by not just playing against other gamers' teams–-but against other gamers, head-to-head online. All tournaments feature social leaderboards to compare against your friends.
•Street Challenges— Complete 20 street challenges to get the chance to bring other players onto your squad—including real-world street players, or stars from your favourite clubs. Play with or against 1-4 players with varying game rules including Panna Rules (score by kicking the ball through your opponent's legs), Entertainment Points (win by entertaining the crowds), and Last Man Standing (score, lose a man and be the first to lose all your guys). Each challenge has its own leaderboard so you can compare your best score or time with your friends.
•Own the Street— From parking lots and parks to gyms and rooftop arenas, FIFA Street will feature cool and unique environments, including iconic locales like Rio de Janeiro, London, Amsterdam and New York.
•Complete Customization— Enjoy customizable matches to replicate the unique ways the game is played around the world, including the number of players, and match types. Take on the challenge of performing trick moves and panna's in a game in Amsterdam, futsal-style matches with no wall play in Spain, or a physical 5v5 contest in the UK.
•FIFA Gameplay Engine— FIFA Street utilizes the best features from the critically-acclaimed FIFA gameplay engine, including the Impact Engine, Precision Dribbling, Personality+ and more.
•Licensed Content— Featuring stars of Manchester United, Barcelona, Real Madrid and many of the top clubs in the world. Play with Rooney, Kaka, and many of your favorite players decked out in authentic kits, training gear and street gear.
•Street Stars—  Introducing real street stars plucked from streets all over the world. Play with and against freestylers who compete in the real-world tournaments.
•EA SPORTS Football Club— From the first nutmeg on, you will be contributing to your EA SPORTS Football Club identity.