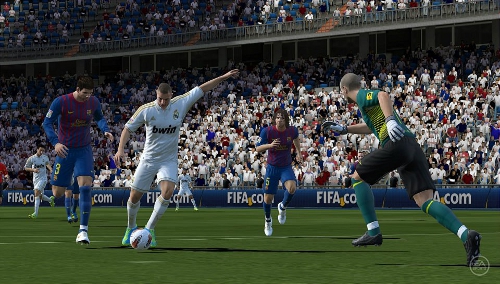 Recently the first screenshots for FIFA Football on the upcoming PlayStation Vita handheld were released – and along with that some discussion on the viability of handhelds in this age of mobile phone gaming. Now comes the full list of features to expect and that includes touch screen controls, Be-a-Pro career mode, and online play. There is no doubt it makes for a much richer FIFA experience than that found on the iPhone – the question though is how big the market will be for an offering at $40 vs $7 one and whether the value can account for that difference.
There is no mention of any feature tie-ins with the PS3 which is something that could really prove important going forward. The stated release date is February 21st making it a release day title for the system which hits stores on the 22nd. 
"EA SPORTS FIFA Football on PS Vita delivers the first true next generation football experience in the palm of your hands. Enjoy the award-winning FIFA console gameplay, HD graphics, and the largest feature set ever created by EA SPORTS for a handheld device. The same physics-based, data driven technology that powers FIFA gameplay on PlayStation3 drives FIFA Football on the Vita across eight different game modes, including authentic 11 versus 11, Be A Pro, Tournament Mode with over 50 real-world competitions, a full in-depth Career Mode, and head-to-head online. Innovations that utilize front and back multitouch screens create an intelligent and unique gameplay experience. Touch Screen Shooting delivers pin-point accuracy and removes the element of "hit and hope" from shooting, Touch Screen Passing opens up the field of play for more creative, precision passing, and Touch Screen Free Kick Control enables players to swipe a finger to aim and curl the shot around the wall. Plus, compete with over 500 officially licensed clubs in 11 v 11 matches in authentic stadiums from around the world."
Award-winning FIFA gameplay—Experience the same authentic, responsive and intelligent gameplay as the console game.

HD Graphics—Stunning player models, graphics and animations in High Definition.

Touch Screen Shooting— Enjoy complete control over shooting—the most rewarding part of football—by removing the element of "hit and hope." Pick a spot precisely from the back touch screen and then finesse a shot with pin-point accuracy.

Touch Screen Passing— A more intelligent and creative way to play and distribute the ball. Make decisive passes with precision and ease utilizing the front touch screen.

Touch Screen Free Kick Control—Enjoy creative new ways to take free kicks and score utilizing optional touch screen controls on set pieces. Swipe your finger to aim and curl a shot around the wall for the match-winning goal that lifts your club to victory.

Touch Screen Defending—Take control of a specific defender simply by tapping on the player using the front touch screen, taking all the guess work out of auto switching.

Career Mode—Play or manage your way to glory through an authentic experience that mimics the real-world game. Begin as a real player or created player and evolve into a player-manager and manager–or just begin at the top–and enjoy a 15-season career. Enjoy authentic tournament structures and results, a Calendar system featuring simultaneous simulations that accelerate game flow, Team Management system for player comparisons, and Friends Leaderboards to compare stats and earnings.

Be A Pro—Create yourself in game and become the next football legend. Build your reputation, and develop your skills to ultimately compete for your favourite club and national side.

Tournament Mode—Compete in over 50 real-world tournaments from around the world. Play with/against friends in leagues ranging from the Barclays Premiership to the Bundesliga.

Head-to-Head Online—Play head-to-head online against a friend in authentic 11 v 11 matches.

Training Mode—Master Touch Screen controls, perfect set pieces and practice moves before playing games.

360° Fight For Possession —True freedom in man-to-man interactions, transforming physical play from individual lateral jostling to full 360° collisions involving multiple players.

Be A Goalkeeper—Experience the thrill of the one-on-one battle, diving to make a save from a free kick, punching balls safely out of danger, and the pressure of keeping a clean sheet. Learn the position, track stats, complete achievements and test yourself against the best players in the virtual world.

Unmatched Authenticity—Compete with over 500 officially licensed clubs in 11 v 11 matches in authentic stadiums from around the world.