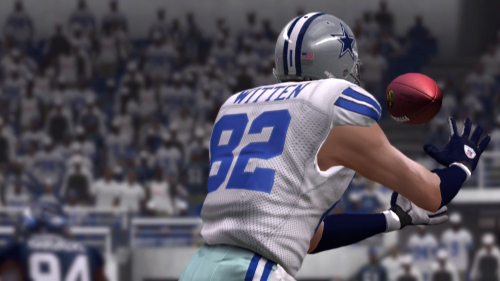 Having now reached just about the mid-season point the picture of just who might be in the running for the cover of Madden NFL 13 has started to come into focus. EA Sports is likely to involve fans in another voting initiative – for the purposes of analysis it will be assumed that another tournament of 32 (one player from each team) will take place. This is a look at the 16 NFC teams while the AFC will be posted on Friday.
In determining the player representative from each team a number of factors were considered including their performance this season and throughout their career, their marketability and exposure, and who best presents the image of what their team is all about. Players that were in the Madden NFL 12 cover tournament were eliminated from consideration as were those who are slated to become free agents.
*Current Madden NFL 12 overall rating in parenthesis for chosen players 
Cardinals: Adrian Wilson (90)
There are a few players on defense that would be decent choices – Darnell Dockett, Patrick Peterson, and maybe even Calais Campbell. Wilson though has been one of the best strong safeties in the league for a long time. He is coming off three straight Pro Bowl selections with four total in his career.
49ers: Frank Gore (95)
After a slow start to the season Gore has five straight games of 100+ yards and is the offensive leader on the most surprising team in the league. Vernon Davis could be another option to consider with Patrick Willis nixed after having been in the Madden 12 tournament.
Seahawks: Earl Thomas (85)
It was The 12th Man last year that got nominated – not a player – but this time around the Seahawks have some talent to present with most coming from the defense. Kam Chanceller, Chris Clemons, or Red Bryant could be in the mix but the favorite would probably be Thomas.
Rams: Steven Jackson (93)
It's rare that a running back performs at a high level, and for the same team, for as long as Steven Jackson. He continues to run hard and be the Rams' biggest offensive threat despite their struggles. On the defensive side Chris Long or James Laurinatis could be options.
Bears: Brian Urlacher (95)
Considering importance to a team no non-QB accounts for as much of the offense as Matt Forte – he's a free agent though taking him out of the running here. Brian Urlacher continues to be the leader on a tough defense that has been the image of the Chicago team.
Packers: Clay Matthews (94)
Aaron Rodgers almost surely would have gotten the nod had he not been in the tournament last year and looks well on his way to the MVP award this season. Instead the pick becomes Clay Matthews who could have even been justified for the cover of Madden 12. Greg Jennings and Charles Woodson are other excellent options.
Lions: Calvin Johnson (97)
Ndamukong Suh already had his opportunity and no player has emerged as a dominant threat quite like Megatron this year – finally having the opportunity to shine on a winning team and in clutch moments. Johnson may end up being rated 99 sooner rather than later.
Vikings: Jared Allen (98)
Allen is one of the highest rated players in the mix and has a previous marketing relationship with EA Sports making him the likely candidate from Minnesota. His 12.5 sacks lead the league.
Buccaneers: Ronde Barber (85)
For a team that had been seen as being on the rise the Bucs have few standouts to consider. The obvious one Josh Freeman was involved last year. So the pick here is someone who has played for the Bucs for his entire 15 season career and was part of a Super Bowl winning team.
Falcons: Michael Turner (94)
With this team rich in talent there are some appealing options including Roddy White, Julio Jones, and John Abraham. Michael Turner has four games with 100+ yards – and though the Falcons offensive attack has become more balanced he best represents how they are still a run-first team when most successful.
Panthers: Steve Smith (96)
This was one of the toughest decisions to make – go with the rookie standout in Cam Newton or the biggest beneficiary of his arrival Steve Smith. For now the choice is the receiver who is much later into his career. EA will have plenty of opportunities to present Newton within marketing campaigns or on the cover in the future.
Saints: Jimmy Graham (90)
Graham has emerged this season as one of the best tight ends in the league. He became only the second TE ever (Tony Gonzalez) to have over 100 receiving yards in four straight games. A sleeper on the Saints could be Darren Sproles who has proven to be exciting every time he gets the ball in his hands (7.1 ypc rush avg, 56 receptions).
Cowboys: Jason Witten (97)
With DeMarcus Ware having been in last year's tournament that leaves the offense to be the focus with several big names in the mix. A case could be made for Miles Austin, Dez Bryant, and now one is building for DeMarco Murray. Jason Witten's consistency though as one of the best in the game at his position is what separates him from the pack.
Eagles: LeSean McCoy (93)
Even as one of the league's most disappointing teams none of the blame can be placed on LeSean McCoy who has had an outstanding season. He leads the league in rushing (on a team that in the past has been pass-heavy) and has 11 total TDs. He has scored a TD in every single game this year.
Giants: Eli Manning (90)
He just got his "clutch" trait back and further solidified it in a road win over the Patriots that included 2 TD passes in the final 3 minutes. Through half the season he has cut his turnovers down drastically – only 6 INTs against the 25 he threw last season.
Redskins: London Fletcher (91)
This is another team that really lacks a standout performer (with Brian Orakpo out after being in the M12 tournament) that could attract support beyond the fan base. Fletcher has been an underrated player for the Redskins since joining the team in 2007 and leads the league in tackles again this season – which he's done for his team for 12 straight years. LaRon Landry or rookie Ryan Kerrigan could be considered as well.